Her presence didn't go unnoticed, also because she's the first girl to ever take part in the VR46 Master Camp, or rather the Yamaha project dedicated to young talents run in collaboration with Valentino Rossi's Academy. Born in Madrid, Beatriz Neila is 17 and currently competes in SuperSport300 with team MS Racing.
About two weeks ago, she stopped off in Tavullia, along with some of the other youngsters involved in the bLU cRU Challenge, promoted by Yamaha. During her week in Italy, Beatriz was able to meet some of the Academy's riders and particularly its legend, or rather Valentino Rossi.
"I didn't sleep the night before I met Ross -begins Beatriz – I kept checking the time to see how long it was before I was going to get up. Then morning finally came and our adventure began".
You're the first girl to have taken part in the Master Camp in the middle of all the guys.
"I consider myself very lucky, because this is one of those opportunities that doesn't often come up in life. During my time at the Camp I received a lot of advice from the Academy's riders about how to improve on track, and from Valentino too of course".
It sounds like you're a big Rossi fan.
"It might sound strange, but I was a Marquez fan before (she smiles)".
Really? So you've 'cheated on him' with the Doctor?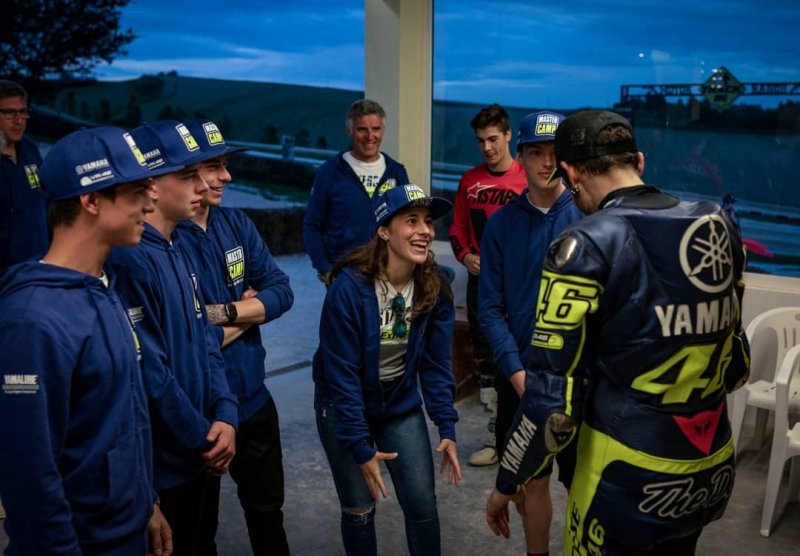 "Because Valentino is unique, I admire him particularly for what he's done with the Academy, or rather giving young riders the chance to grow and improve their technique. Many of them might not realise it, but they're really lucky".
If I say Rossi, how do you respond?
"I think Valentino is a diamond, something unique. Just having him in front of me and listening to him is special. As if he were a second dad, but a biker dad, he knows how to advise you and help you. This experience was special to me and I'd be ready to move to Tavullia to be able to train with the guys at the Academy".
You'll be back in the area in a few weeks' time, for the Misano round.
"Really? I didn't know it was close to Tavullia. It would be nice to take another lap".
You mentioned the Academy's riders, who made an impression?
"They are great riders, but above all great people who laugh and joke. Antonelli for example, but also Franco Morbidelli, who's young but making great strides in MotoGP".
And, in your case, why bikes rather than dolls?
"When I was young I'd often watch TV and one day I found myself watching a race. It was a bolt out of the blue and I told myself: "I want to race too".
And you did it.
"Yes, but the road is still long and it takes commitment and sacrifice. I started racing minibikes when I was 8, then the Honda Cup, then the Red Bull MotoGP Rookies Cup, the CEV and here I am now in SSP300".
How is your relationship with the other girls in the category, Maria Herrera and Ana Carrasco?
"They are both very fast and a point of reference for me, they can help me improve. Although Ana and I are rivals on track, we have a great relationship off it, and talk often".
And lastly, what is your secret dream?
"To race in MotoGP (she smiles)"