They were long overdue and now here they're together in Jerez: Loris Baz and the Ten Kate team represent the last union for SBK 2019, in a return to the competition for both sides.
The French rider reached an agreement with the Dutch team at the beginning of the year, then it took time to prepare everything. Their debut in Andalusia is waiting for them, and the experts are curious.
With the rust removed during the Misano tests, Loris is looking forward to getting on the track.
"I'm happy to be back in action, it was a really long winter," Loris acknowledged. "I'm happy to be here with a strong team and a good bike. I can't wait to get on the track tomorrow. The test times were good, although we didn't focus on that aspect. The conditions were difficult. We had so many things to do. The team had to understand how to work with the electronics, doing a lot of laps, the base of the set up has now changed, I feel better about the R1. I'm satisfied."
How was the R1 M in the tests performed?
"Tomorrow will be another day of testing for us, useful to better understand the Yamaha. On Saturday, we'll try to do more. The R1 is a bike that's ready to go strong immediately. There's nothing to develop, and it has no weaknesses. We just have to understand the strong points to use. The driving position is comfortable, the engine is fantastic, it expresses surprising torque values when cornering and the electronics are a good standard."
What did you think while watching the others race? You haven't raced in a long time.
"Mine was also a choice. My goal was to return to racing with a good bike, not like - on the contrary - I did in 2018, the year in which I didn't drive a competitive bike. At that time, people didn't know if it was me not giving gas. Now, the public is on my side. I came back with a great team and a good bike. It was difficult to choose not to race because a rider never knows if a competitive bike will come along with which he can express himself."
Fores didn't want to pay to stay in SBK. Others did. You?
"No. I had also said that I would not have paid to race. I lost my spot in MotoGP because I didn't bring money to the teams. This is an expensive sport. Those who have sponsors behind them have a lot of  help. You need talent but also money. Since I proved I was at the level to stay here, I stopped paying, and I'll never do it again. I'd rather do other things."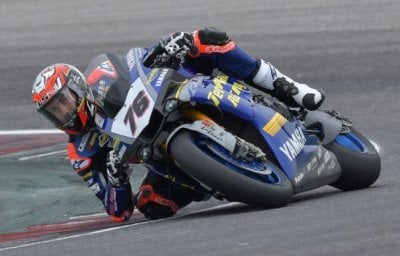 Was 2018 very burdensome for BMW?
"When I decided to wait for a really good opportunity, I knew that I would have risked not even racing one race this year. I didn't want to sign anything, not even something for other championships like Endurance. I didn't want to be blocked by a possible call. That said, I had a great time with the team, but the work was not going strong. The problem was communication between the team and BMW, which had different motivations. To win the races we must constantly improve, unfortunately the S1000 RR had remained the same throughout the year and perhaps for two or three seasons. It was too bad, but from there, I decided not to sign for situations that are not interesting in SBK."
Why did the Ten Kate brothers choose you?
"Ten Kate chose me because I think they remember what I did in SBK but also in MotoGP. In the top class, I got points with not really competitive bikes. I defended myself very well. Furthermore, when Ronald and Gerrit called me, there were not many riders available around. They wanted a good rider to put on the R1. I already enjoyed excellent relations with Yamaha... In short, each side needed the other, so it was normal for the project to take shape."
Do you think the general level of the SBK is now higher?
"I don't know, but I can say that Bautista is a strong rider who has never had a MotoGP available to win. The Panigale V4 R is competitive, but I don't think it has a frame that is easy to fix and understand. The Alvaro-Ducati duo makes the difference. He rides hard and the engine is awesome. In this league, it has always been difficult to have similar engine performance. The Japanese are put on the market with a philosophy, the Ducati is different, so I can't draw up definitive balance sheets. What is certain is that now Kawasaki wants to respond to the attacks made by Borgo Panigale, and Yamaha is right behind it."
Loris competed for four complete Superbike seasons, before moving to the Top Class. In MotoGP, Baz rode Yamaha and Ducati, and bit of KTM at Silverstone last year. His opinion on French riders is interesting.
In MotoGP, there are two French riders. One is going well, the other a little less.
"I first saw Quartararo on a motorcycle when he was 7 years old. He was already very strong, talented and, at only 20, he understood many things about his sporting career. Fabio understood what mistakes to avoid committing, and he feels good on the Yamaha. I expected to see him go strong with Yamaha. Would it be possible for him to win a Grand Prix in 2019. Zarco? People's comments surprise me. Johann moved from Yamaha to KTM and doing so was not a small undertaking. If we look at the MotoGP in the last 10 years, the only one who was fast after a bike change was Stoner. Rossi had difficulty moving to Ducati. Lorenzo took a year or more to win. The only one who could do that would be Marquez."
Audio recorded in Jerez by Riccardo Guglielmetti