Take a good look at the cover photo on this article. Nice, isn't it? In single file, you'll recognize Josh Herrin with the number 2 Suzuki, Toni Elias astride his number 24 GSX-R, Texan Gerloff and Californian Cameron Beaubier, the latter both on factory R1 machines.
That could very well have been the finishing order for race two at Elkhart Lake but, like the day before, everything went topsy turvy in the final laps.
First of all, in the decisive duel Toni went down and ended up in the gravel. When he got back up, the Spaniard was disappointed to say the least,. After the argument the day before, Herrin was pumped up and it was enough to give him that extra boost he needed. Joash won, taking his second win of the season and his twenty-second in American Motorcycle Association events.
With this score, the Suzuki rider joins the likes of Tommy Hayden and Wes Cooley, two American legends: "I was just drafting Toni and then I'd kind of pull up alongside of him - Josh said in the press briefing after the race - One of the laps, I think he thought I was trying to race him down the back straight and maybe beat him on the brakes. I saw him shake his head and maybe getting frustrated. He just rolled off, like just go. That's not what I wanted. I wanted to keep doing what you were doing and trying to break those guys because I know our bikes were running fast this year. But somehow it ended up working out in the end."
Speaking of the photo, besides the absence of Elias, the two Yamahas also swapped places. In fact, Beaubier finished on the second step of the podium and Gerloff rounded it out on the third step. It was a good day for Yamaha, but not fantastic, since the R1 was once again bested by a team Yoshimura bike.
Scholtz finished fourth and Beach fifth. It was the best result of 2019 for Wyman and his Panigale V4 R, sixth over the line on his beautiful number 33 Ducati, with rather consistent gaps behind the leader.
Last, but not least, after the tumble in the gravel and a few expletives, a disappointed Elias had this to say: "We had a great win on Saturday and then I had the crash today because I flinched in the final turn when Cameron (Beaubier) came in. I could not finish because the handlebar broke off. I congratulate Josh for his win. He has worked hard and is very deserving of this. I am sorry to my team for my mistake, but we will come back and fight again to build back our lead." The Spaniard is a champion and a true sportsman.
In the championship overall standings: Elias 151 points, Beaubier 142, Gerloff 104.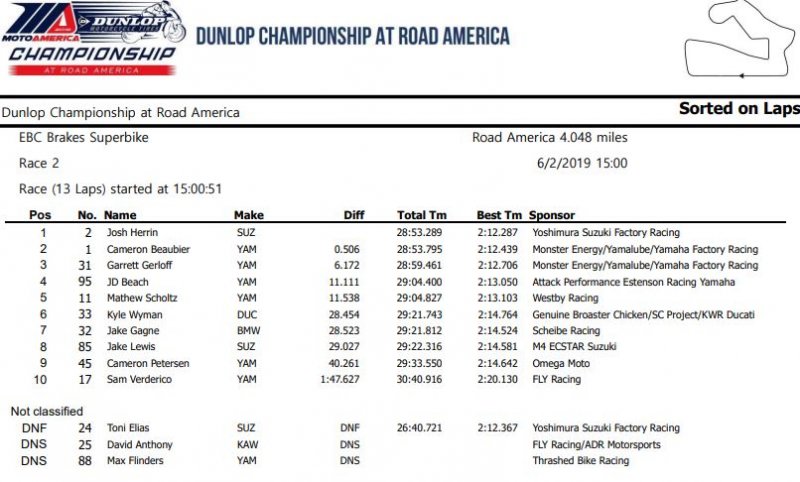 Share