Dreams come true at Mugello. Or at least they do for Danilo Petrucci, who felt like the underdog but then found himself on top of the world at the most beautiful track of all. He has proved that even a rider weighing 80 kg can win in MotoGP, he doesn't have the stigma of the predestined and he has just as much heart as courage.

There was success for Tony Arbolino, who reaps the rewards of his work under the Tuscan sun after having sown. And success for Luca Marini too, who even set a new record for slowest lap of honour, because some moments need to be enjoyed to the full.

It didn't all go well though, as Valentino and Lorenzo's faces told us. You can't always win, but certain defeats hurt more than others.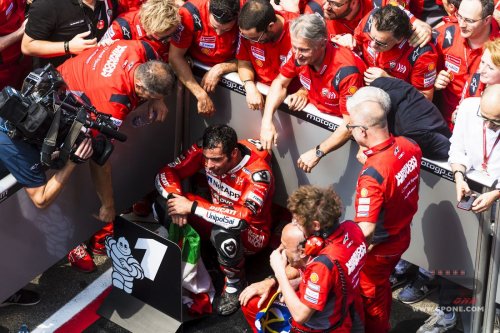 THE GOOD – Mugello, 2 June, the celebration of the republic of engines freeing itself (at least for one Sunday) from Marquez's tyranny thanks to general Petrucci, a simple soldier up until a few hours earlier. The Italian had already showed their strength earlier in the day with Tony Arbolino, and Lorenzo Dalla Porta. Foot soldier Luca Marini also tried (against the other Marquez) but one lost battle didn't change the result of the war. So many new faces on the podium at Mugello, we couldn't have asked for more.
THE UGLY – it's usually the loser who finds himself apologising, and yet Danilo Petrucci did so after winning. An 'ugly' way of behaving, so to speak, as the Italian clearly had nothing to be sorry about. A friendly giant, almost too good in his ways and soul. Luckily he'd made of sterner stuff once he gets on the bike.
THE BAD – The dream team is becoming a nightmare for Jorge and Marquez is doing nothing to make his life easier. having silenced his team-mate on track, Marc did the same in front of the microphones. "You want a bike that suits you? Finish ahead of me and we'll talk". It's difficult to find the right words with which to respond.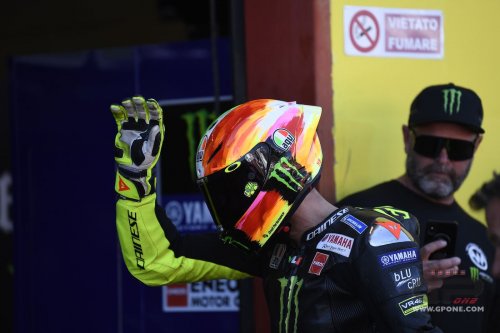 THE DISAPPOINTMENT – Yellow and blue were only seen at Mugello in the form of many caps and the colour of the sky. The colours of Valentino and Yamaha were so pale as to be unrecognisable. They can still change direction, but they need to do so quick because the promises are becoming less and less credible.
THE CONFIRMATION – Whatever the track, whatever the temperature, Marquez is always there. Almost apologetic, he commented how Mugello is a difficult track for both the Honda and him. Yes, his 2nd place finish is one to be depressed that's for sure, especially about if you're racing against Marc.
THE SURPRISE  – He crossed the line ahead of both Lorenzo and Crutchlow, but no one seems to notice in the celebrations. his name is Takaaki Nakagami, and after several years of work as an apprentice, he is the only man not named Marquez to have stood his ground with the Honda. Right now, that's almost as good as a win.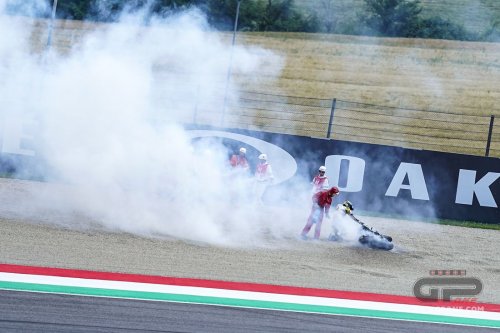 THE MISTAKE – When you have Valentino as a teacher, there can be nothing better than trying to imitate him. perhaps Morbidelli and Bagnaia took this too literally, crashing out of the race like their professor. Franco shined in qualifying though and Pecco ran with the best, no small feat.
THE PASS – When you get past Marquez and Dovizioso at San Donato you deserve the prize. Petrux scored the jackpot.
THE INTERESTING FACT –  Helmet hell. Until recently, we liked the idea of special graphics and liveries for a home race, but things are getting out of hand. Three days of tricolors, flags, ideas, some good, some less so. A big headache for which we don't need a helmet, but an aspirin.
I TOLD YOU SO– Valentino Rossi certain: "we'll be more competitive at Mugello". More competitive than who? He didn't specify.