More than five kilometers, 15 turns (6 to the left and 9 to the right), each different from the other, changes in slope, braking that's stupefying, and a straight where record speed is reached. In one word: Mugello. The Italian Grand Prix is right around the corner, and the Tuscan circuit is one of the most exceptional but also the most demanding of the entire season.
The Michelin technicians know what to expect. They have to bring tires that guarantee stability when braking, that resist acceleration with a medium abrasive asphalt. There are three compounds available for the riders (classic soft, medium, and hard) for tires produced with a new technology introduced in recent months, asymmetrical for the rear (with a harder right side) and symmetrical for the front.
Instead, the compounds chosen for rain tires are soft and medium, with an asymmetrical rear tire.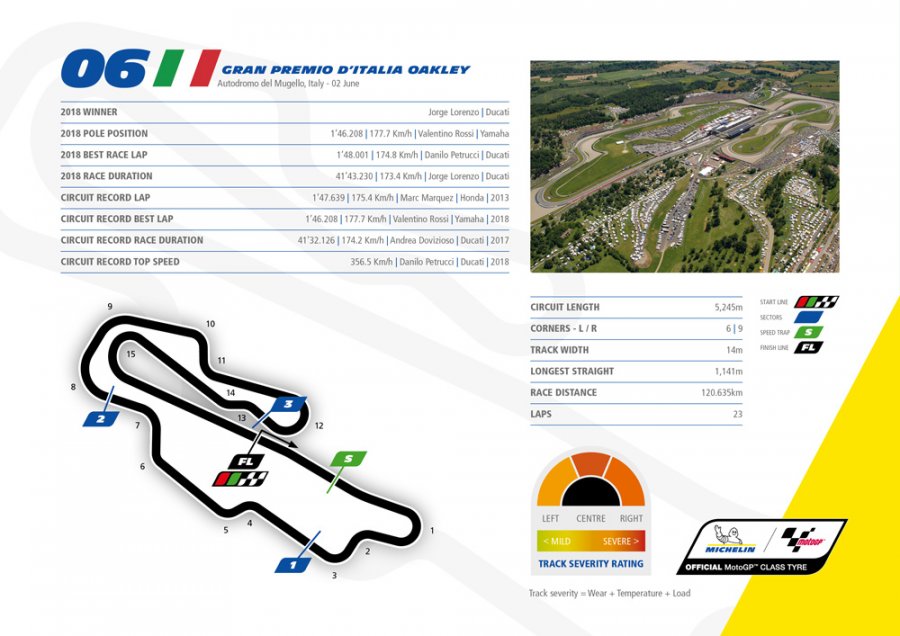 "Mugello is certainly one of the special circuits on the calendar. Its wonderful position makes it unique in its kind, but it is also one of the most demanding," explains Piero Taramasso, head of Michelin on the MotoGP race tracks. "The tires really have to work hard, and we must have a selection that can cover every occasion. It can be cold in the morning, before the sun comes up over the hills to warm the asphalt. Then, when it does, the track can get very hot, so we need a selection to cope with these changes."
"Furthermore, there are many different characteristics to consider, from difficult braking to very high speeds reached, so you have to choose tires that meet these needs, that offer stability, as well as durability and a good grip. All qualities that the tires produced with our new technology have already proven to meet. We can't wait to discover what Mugello has in store for us. We're certainly up to the task," he assured.
Share