Ten points in three races and a best result of 13th at 'his' track of Le Mans, forced to watch Quartararo steal the hearts of the French fans on what was his bike and Pol Espargarò perform miracles with the current bike. Johann Zarco dreamed of becoming a factory rider, but so far his adventure in KTM is more like a nightmare.
"What can I say? I'm just a spectator in this story", the words of Hervé Poncharal, the owner of team Tech3 and the man who brought Johann to MotoGP. The French manager is modest, but knows Zarco well.
"We spent two fantastic years together - he recalls - Like everyone, I too thought that Johann's results would come close to those of Pol, that they would spur each other on. I didn't imagine this situation".
What could be the cause?
"Pol has two years of experience on the KTM which, as a concept, is pretty much the opposite to the Yamaha. But then I wouldn't have expected to see a rookie like Oliveira finishing ahead of Syahrin either. Miguel has the advantage of not having ridden any other MotoGP bike though, he is strong because he has no other references".
You are very political while Stefan Pierer, the big boss of KTM, has been less so with Zarco…
"Stefan is the reason why, after many years, I left Yamaha and signed with KTM, I like people with balls, with ambition. When he came to KTM it was about to shut down and he turned it around. He says it takes him to win in MotoGP, but I know that in reality he's very ambitious and wants to get there as quickly as possible".
Is that why he's pushing Zarco?
"They have the same character, Johann doesn't want to wait either. He's a rider and when he gets out on track he wants to beat his rivals, the other bikes".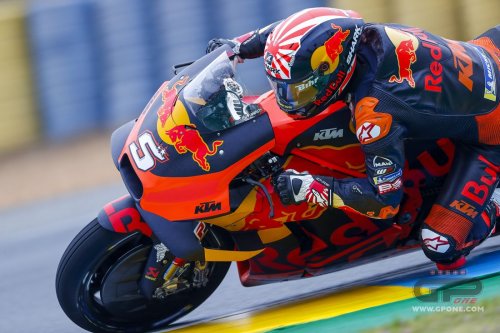 He's not managing to do so though…
"Last year he scored podiums and pole positions, now he's in a situation he didn't expect, he thought he could do better than Pol but that's not the case. Also, Quartarato has sort of taken his place and this might be tough to accept, ego plays its part".
How can he get out of this situation?
"All riders want to be part of a factory team, with the race department behind them. It's like going from having ready to wear clothing to something tailor made. But with the bikes, this means not only finding the right set-up, but showing the engineers the way forward. For Johann, that's all new and it's not easy, but he has to do it".
Can Jean-Michel Bayle help him?
"I hope so, though it's never easy to manage riders. We've only had five races though, Johann still has plenty of time".
The RC16 is not yet at the level of its strongest competition. KTM competes in all three classes, is this perhaps not too great a commitment?
"I can only say this: in the past, I've been in the Honda, Suzuki and Yamaha race departments but I've never seen anything like what KTM has, it's incredible. Even the technicians coming from other manufacturers are surprised. Every time we need something, they give it to us, in Moto2 we're struggling and there was a new frame for Le Mans. KTM hasracing in its DNA. It took them a few years to win in the Dakar and in Supercross, but then they never stopped ".
One final fantasy market question. They say that a swap between Syahrin and Binder is on the cards, already this season…
"You know me, when i shake hands and give my word, I don't change my mind. I'm definitely disappointed with Syahrin's results, but then so is he. That swap would make no sense, we're only a few races in and I know, because I've spoken to him, that Brad's aim is to win the Moto2 title and then move up to MotoGP".