Marc Marquez is changing during this 2019, becoming more of what his current teammate, Martillo, was in the past, par excellence. In fact, Jorge Lorenzo was the last interpreter of this way of racing, where he slowly but inexorably breaks away right from the first laps of the race. A technique that Marquez rarely put into practice in the past, but that this season has already made him win at Termas de Rio Hondo, Jerez, and Le Mans.
A strategy that, without his fall in Austin, would have already allowed Marc to play his cards in this first phase of 2019. This, as Marquez himself explained, derives from the great change his Honda underwent during the winter. In fact, the RC 213 has changed, finding the key, which leads to a regularity in the race, in greater engine power that, in the past, it often struggled to find. 
Because when you have less speed, you have to force your braking. You have to risk more at other points on the track and, obviously, this involves a very expensive price to pay in terms of constant performance. Marquez explained this very clearly  when asked what the key to this great change was, after pointing out that today is a great day for the Marquez of the Paddock.
"Today is the day of the Marquez family! An important victory for me but also for Alex, who has had a difficult time. His victory gave me the extra motivation I needed. I wanted to give the family a special day."
Now let's focus on Marc, the family member who has dominated MotoGP today. By now you've changed your strategy.
"The fact is that last year I lost too much in many areas, while this year we made up for these differences. Of course, there are still strong points and others that are less strong for the bike, but one of the weaknesses with the Ducati was the engine, and we solved that problem. Now I can be fast in other ways. Last year, I was very fast at times in qualifying and then less in the race, but I can be just as fast this year in qualifying and even more in the race. I'm taking pleasure in racing  like this. I don't miss the duels." 
A change that today has resulted in the possibility of using soft tires, the most difficult for Honda in the past.
"Before, we couldn't use the soft front tire like Ducati and Yamaha because we tended to overheat it, while now we can use it. The bike reacts well because, last year, we tried to make time by braking while, this year, we may have lost something to this regard, but we recover in other areas, and this is the right way to race. Right, because if you push too hard when braking, you're risking, and this means that you can't be constant. Now, instead we manage braking better, and we are just as fast."
A change that apparently did you a lot of good.
"Now I feel very good when entering corners, even if there are still some little things to improve. I feel that I can use different driving styles, and this depends on the fact that we have more engine. Finally I understand how Dovi and Jorge did it last year. It's a feature that allows you to ride in a very different way and allows me to be constant."
You say you've taken  some big steps forward, but you had already won here in 2018.
"We won here last year, but it was much warmer than this year and, when it's cold, we usually suffer a lot.  This was the first time this year that we raced with a soft front tire. We could have had a good race."
Do you miss the duels of the last lap? Today you didn't have many. 
"Today it was nice to go up against Petrucci's and Miller's Ducatis in the first laps, but then my goal was to try to break away. In the morning, I had some problems during the warm-up, but when I did the alignment lap, I immediately felt good, and I thought I was going to have a good pace."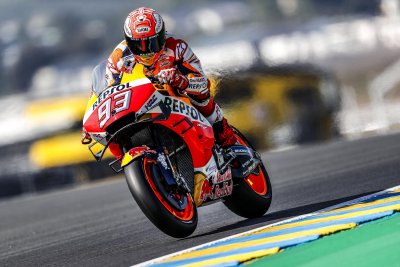 Did your rivals behave as you expected or did you have any surprises in the race?
"Today I would have expected the Yamahas to be stronger than the Ducatis. I saw that Vinales and Quartararo were fast on Friday, and I thought they would try to break away if they started from up front. Then, when Miller passed me in the race, he surprised me because, immediately, he seemed to be faster. But then I pushed and saw that I could be fast, so I quickly passed and broke away. I have to say that I'm taking pleasure in racing this way, but I know that on the tracks to come, I'll have to manage it in a different way."
An almost perfect start to the season, yet you only have 8 points ahead of Dovizioso. A frustrating situation?
"It's not frustrating because I got a zero that puts a damper on everything, even if just five races have passed. It's something you pay for. I made a mistake just where we least expected it, and I had the confirmation that we have to stay very focused in every single race, on every track. Dovi is doing a great job, but I already said that yesterday. If you look at other rivals for the title, sometimes someone is fast in the FP1 and then loses in qualifying, while Andrea is always in the top five. This is the way to fight for the championship, but we're here too."
It seems like your Honda is the only one that is really strong. Your teammates are all suffering.
"I'm not worried too much about the other Hondas or my teammates. I'm only worried about my position. My goal is to try to stay ahead, and I know that my group in the Repsol team is working very well. HRC gave me everything I asked for and we're improving. You can always have a better bike, but these are how races go, and it's clear that sometimes you'll have strengths and weaknesses to manage. But when you see that everyone is giving 100% and that you feel good on the bike, it means that it's okay. I don't know how to answer this question because I don't know what happens with the other Hondas, but I do know that everything is fine in my pit." 
Jorge continues to suffer. Did you expect him to be so far behind in the fifth race?
"Jorge often showed that he could be fast with this bike, but he still didn't find the key to interpret it perfectly. Give him time and, when we least expect it, we'll find him up front. I'm sure of it."
Now there's Mugello, and that's where Lorenzo broke through and won. Is it a track that has always represented a great challenge for you? Do you fear it?
"Like you said, Jorge won last year. No, I'm not afraid to race at Mugello."
From the outside, it looks like you're stronger than in the past. Do you feel invincible?
"I felt invincible in 2014, then in 2015, boom. What happened, happened. I fell so many times, I felt very strong after winning the title in 2013 and in 2014. I was sure of winning again in 2015, but then I woke up. We're human. There will always be bad days, and they're occasions to learn from. We are in MotoGP and, if you really want to be fast, you have to learn from everything and everyone."
About your brother. This is an important victory for him.
 "It certainly wasn't an easy time for Alex. It's not easy to be the brother of… .You're always under so much pressure, but I never stopped trusting him. There were more difficult days and others in which he proved to be very strong. He won after a year and a half and that's important. This year, he's riding well, even if we're only talking about a single victory. Of course it doesn't change things very much, but I think it can help him take that step forward to break through. Sometimes you need these things to change your mindset in the race."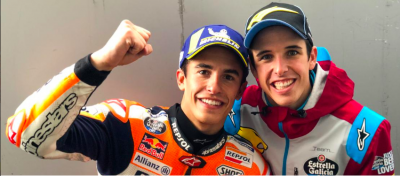 MARC AND ALEX MARQUEZ, BOTH WINNERS AT LE MANS
Is MotoGP closer for him now?
Alex in MotoGP? To get there, you have to get on podiums and need victories, and he knows this well. It doesn't matter that he's my brother, and he knows it, and he's doing his best. I would like it very much. When things went wrong, I always told him that he must have patience and fortunately this victory has arrived, which is very important."
Did you see the photo that Lucia, your sweetheart, posted?
"No, not yet."  But of course it's a great day for my family. We both won. My father is very happy. Emilio is, too. All those who are close to me are happy for us."
AUDIO RECORDED BY PAOLO SCALERA IN LE MANS
Share