Gene Romero, 'Burrito' for friends, passed away yesterday.
One of the protagonists of the American era of the golden age. The one that preceded the dazzling but brief career of Pat Hennen first and Kenny Roberts then.
Romero won the 1970 A.M.A. Grand National Championship and the 1975 Daytona 200, a race in which he finished second in 1970 and 1971.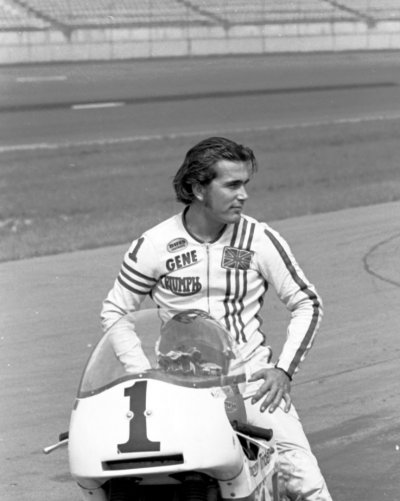 Romero's motorcycle career lasted sixteen years from the late 1960s until his retirement in 1981. Gene won 12 AMA Nationals, including the AMA Most Popular Rider of the Year Award in 1970.
Wikipedia reports that he was one of the first riders to attract sponsorship for motorcycle sport outside the motorcycle industry, so much so that he was sponsored by another legend made in the USA, the famous stuntman Evel Knievel.
Romero, whose nickname betrays his Mexican-American origin, was introduced to the Motorcycle Hall of Fame in 1998.
The 200-mile Daytona he won in 1975 in front of Steve Baker and a very young Johnny Cecotto is also remembered for Barry Sheene's dramatic crash caused by the bursting of the rear tire on the bank.
In the rare video you see Romero visiting Barry who congratulates him on his success.
Godspeed, Burrito.