Every rider has his own GP, as does every bike, and the same holds true for the tires. And so Michelin arrives at Le Mans with the imperative of not disappointing expectations, on a circuit that was entirely redesigned in 2016.
The French technicians know the track well and, for next weekend, they'll be bringing the classic three tire options for the front (with a symmetrical construction) and soft, medium, and hard compounds for the rear, (which will instead be asymmetrical with a harder right side).
But there'll still be something new for the riders. The hard front tire has a new compound that has been available only since the beginning of this season, while the rear ones were made with a new technology and approved by the riders during the winter tests.
The choices made should be ideal for a circuit where the tires must offer good stability when braking and traction in acceleration from low speeds.
At the Bugatti, we can't rule out the possibility of rain, so wet tires will be available in soft and medium compounds (with asymmetrical rear tires).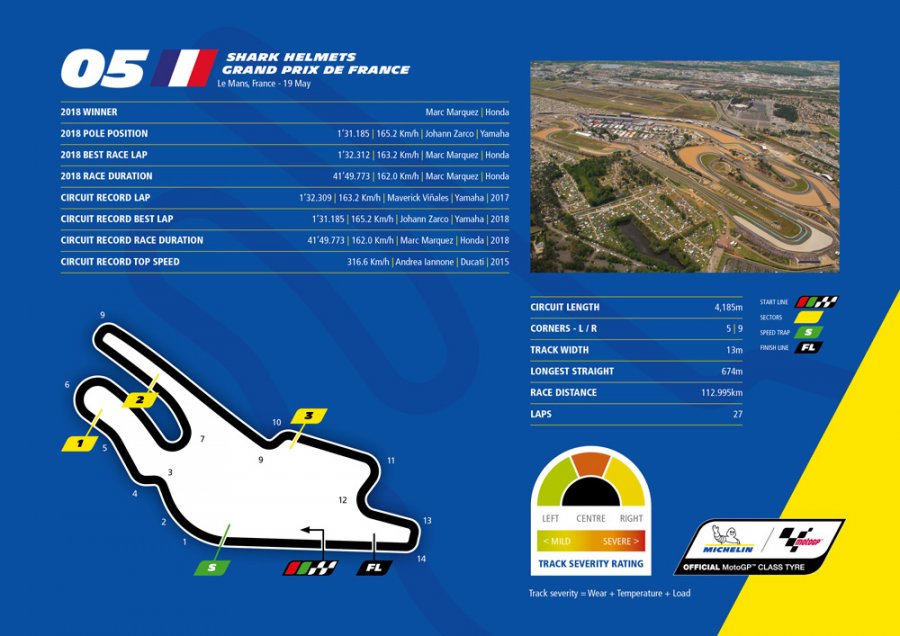 "This weekend is one of the most important events on the calendar for us," is what Michelin's manager on the racing field, Piero Taramasso, commented. "It's our home race, so we can count on the support of the French fans, and we also have a good number of Michelin operators for the race, so we know that there'll be a lot of people who want us to do well, which means it's imperative to offer them a good show."
"The Le Mans circuit is a track where we have many records, and also one of those we use as a reference because the asphalt is great since it was rebuilt, but this doesn't mean that we'll not try to improve," said Piero. "We have new compounds in the range that were added after the test at the beginning of the year and that will surely help the riders improve their performance, like what happened in Jerez."
Share