Those who leave old pastures for new know what they are leaving behind but not what they will find. This is equally valid in the racing world, just ask Lorenzo, Iannone and Zarco for example, all three of whom have left a bike with which they were competitive only to find themselves in deep water.
All three have fallen short of expectation over the first four rounds of the season, even compared to their respective team-mate, and a way out still seems far away.
In theory, Lorenzo should have had the greatest advantage, having moved to one of the most successful teams of all time and to a bike that has dominated in recent seasons. The Honda as been moulded by Marc though, and the two Spaniards could not have more different riding styles.
HONDA: PERFECT FOR MARQUEZ, A NEMESIS FOR LORENZO
The RC213V is small, reactive, even unpredictable, Marquez appearing to assault the bike at times. That's not Jorge's way, the Majorcan preferring perfection in terms of both the riding lines and reactions. Also, while Marc rides with the rear tyre, a little like Stoner did, Lorenzo puts his faith entirely in the front, and right now (as confirmed by both Marquez and Crutchlow) this is where the Honda is lacking. If we add the recent injuries (with the sitting out of test days) and a few too much technical setbacks, you can see why Lorenzo's is an uphill climb right now.
In actual fact, the figures tell us that the Majorcan, after four races, has more points than he did last year (11 compared to 6) but the situation twelve months ago with the red bike was very different . He threw away an excellent result at Jerez due to a mistake and he would soon make up for that with double wins at Mugello and Barcelona, something that looks impossible with the Honda right now.
it would be a mistake to underestimate Jorge, but as he himself says, "we need time and miles under our belt". The Jerez test didn't go as planned, with two crashes proving that the rider is still lacking that confidence with the bike.
"I hope Honda is as keen as I am to get out of this situation" stated Lorenzo at Jerez, but the truth is that HRC sees Marquez performing miracles with this bike, Crutchlow too having reached the podium this year. Luckily, Lorenzo has never been scared of hard work, and he can perhaps be more optimistic about the future than Iannone and Zarco.
IANNONE AND ZARCO: SCALING THE APRILIA AND KTM MOUNTAINS
Iannone and Zarco knew they were in for a challenging time with the Aprilia and the KTM, two bikes that still need development in order to reach the level of their rivals, but neither realised quite how tough it would be
You can clearly see what the Italian and Frenchman have been going through from this graph. Last year, Johann was lying second in the championship when he arrived at his home round, while Andrea was 4th, both having already reached the podium twice. Now they are languishing at the bottom end of the standings (Zarco 18th, Iannone 20th).
Both have gone from an inline 4-cylinder to bikes with a V4 and this definitely impacts on how they have adapted. This is particularly valid for the Frenchman, who debuted in MotoGP with the Yamaha, the 'friendliest' of the bikes. Look at what Quartararo is doing to understand what we mean, Morbidelli also confirming this, having come from Honda. Franco already has 25 points, more than Lorenzo, Zarco and Iannone combined.
The ongoing challenges can be tiring and Johann has already lost it. "The frame and power delivery are shit"  he said about the RC16 , caught on camera in the garage. Johann has come under fire from KTM big boss Pierer: "you need to be brave when throwing a V4 into the corner, not soft like with the inline 4" he commented, summing up the fundamental difference between the bikes.
This definitely has a weighting, but it is probably not the only problem. Johann knows he is also partly responsible, and is keen to make amends, having hired Jean Michel Bayle as his coach.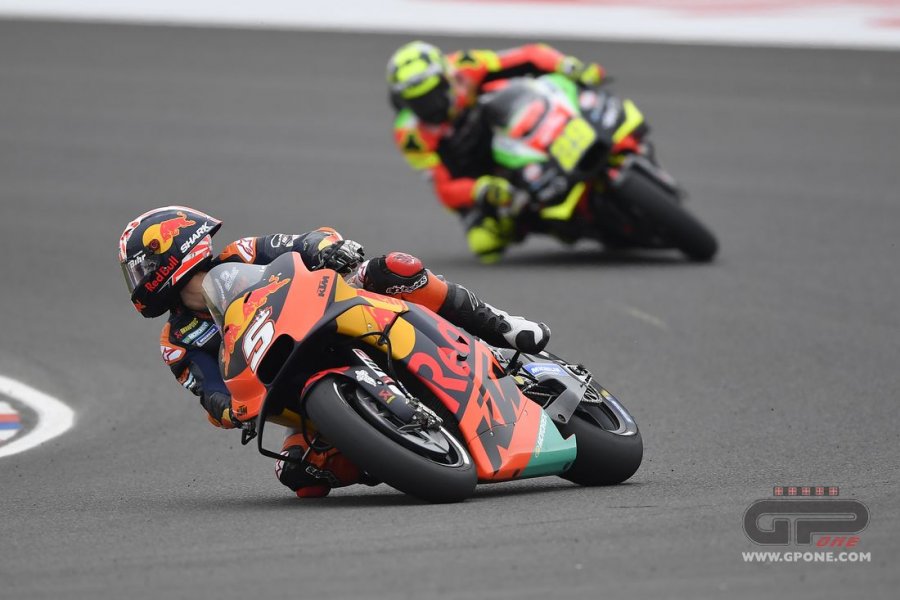 Iannone, in turn, is taking a zen-like approach to his Aprilia 'climb'. Aleix Espargarò has already scored two top ten finishes, but Andrea seems more focused on development of the RS-GP. A good thing of course, but the rider should remember he's there to race, not just to test.
His experience in Ducati could prove useful though. He already knows what it's like to suffer and how to overcome obstacles, something he's also done in Suzuki. He too is short on time, but no one hangs about waiting for others in MotoGP. Noale doesn't have the budget that KTM has (it's direct rival right now), and although passion and skill can make the difference, what they need right now is time.
Iannone needs to make the Aprilia his own because the potential is no doubt greater than what we've seen until now. As for Lorenzo, riding three different bikes in little over two years in not easy, but the Italian has always managed to show us his speed.
In MotoGP, it's never easy when heading for pastures new and so it's not surprising that Jorge, Andrea and Johann are struggling, despite their talent. The next event on the calendar is Le Mans, an important round for all three of them.
Share