MV Agusta has already achieved its first goal during its return to the World Championship: winning points after over 42 years of fasting. It was Dominique Aegerter who succeeded in Austin, then repeated it in Jerez. Logically, for a historical brand like that from Cascina Costa, just a few placements are not enough, and the men at CRC (Castiglioni Research Center), and those of team Forward, are working on the F2.
"In the tests after the race at Jerez, our riders tried a new chassis and two different swingarms," explains team manager Milena Koerner. "One day was not enough to finish all the work and, after the Le Mans GP, we'll be going to Barcelona for another two days of private tests."
Something new is also expected in Spain.
"We'll have two different new fairings," she continues. "One of our priorities is to improve the aerodynamic efficiency of our bike. We lose too much on a straight, especially after 200 km/h. The tests in Barcelona will be important. Then we'll  also get in the wind tunnel."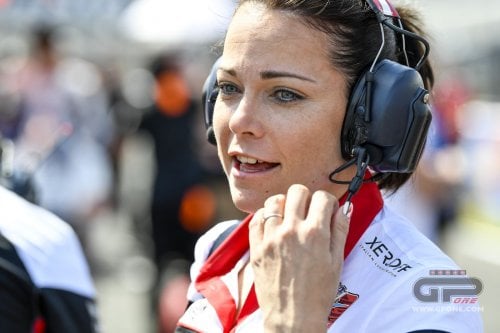 "Logically, the Mugello race will be very important for us, and we're  making a big effort to prepare ourselves at our best," Milena confirms. "For that appointment, we'll have a new fairing, while we'll already use the new chassis in France. We've established an excellent collaboration with CRC and Paolo Bianchi, its  manager, was with us in Jerez. We found a well-organized and quick to react structure. The riders are stimulated when they always find new material to try out."
Assessing the situation after four races is undoubtedly premature, but how was MV's debut in Moto2?
"I'd say we can walk tall," Koerner replied . "Honestly, we're doing better than expected. Just think, the bike is completely new, and we don't have the data our opponents have. We're going against manufacturers like KTM and Kalex, and it's not a simple challenge. Without the fall on the final lap, Dominique would have already been able to score points during the second race. We can be happy."
However, the saying goes, "an appetite comes with eating", and the next goal is clear.
"Entering the Top Ten? Of course we are aiming for that," confirmed the manager. "We'd like to do it in Italy, then continue in all the other races.  But it's not something to take for granted. We have many experienced teams and large manufacturers in front of us. I know they'll improve, too. KTM is having problems, but it'll solve them quickly, and we must develop. This year, in Moto2, they're practically all at the beginning of their development, and the riders still have to get used to the changes."