Performance and confidence is on an upward trend for Kyle Wyman on his Panigale V4 R, once again in the points at VIR in the third round of the 2019 MotoAmerica season. The track conditions were anything but easy to tackle due to the alternating rain and sunshine, but despite it all, number 33 battled in the leading group, attacking on slippery asphalt and defending in the dry.
For a bike that is still all to be discovered and developed, team KWR receieved reinforcements directly from Bologna: the much-desired Marelli electronics management ECU, complete with Ducati multifunction dashboard, was sent by the manufacturer to the USA. Kyle is curious and can't wait to finally be able to test it.
"We are happy that the package arrived - the New York native confirmed - We'll debut the new electronics, in a test at Pittsburgh scheduled in two weeks. During the track sessions, the team and I will try to optimize our work, focusing on the most important aspects of the Marelli electronics and what it has to offer."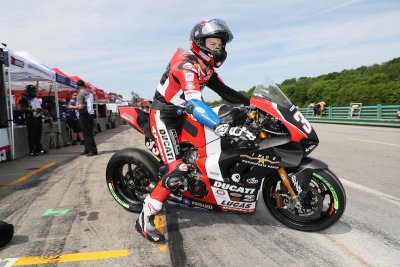 In addition to the complete technical package, Wyman will be able to rely on some Italian know-how and experience.
"After the Imola WSBK round, a Ducati electronics engineer will be coming from Italy to help us during the Pittsburgh test. This is big news for us and we are very happy about it.. This is a good opportunity for learning and this is a learning year."
Already in Virginia, the American V4 R was flaunting a brand new and gorgeous livery that included the Ducati color. The original graphics in classic American style, with the fundamental, typically Italian red touch. It would be great to be able to see it in action alongside the World Superbike riders.
"I would love to do that as a wild card in California, but I think it would be difficult. As you saw Josh Herrin last year do WSBK and MotoAmerican in the same weekend, he struggled big time to do so many laps with his Yamaha. The kind of effort it takes to handle the MotoAmerica and World Superbike races on the same weekend is not to be underestimated, because it means changing the bike's setup based on the Dunlop and Pirelli tires, which perform very differently from one another.
We'll have to wait and see if there will be a fifth Panigale on the track at Laguna Seca, as will be the case at Imola this race weekend. In the meantime, Paolo Ciabatti of Ducati Corse confirms the commitment to assisting team KWR: "We'll send one of our electronics engineers to the tests in Pittsburgh, so Kyle will have help setting up the SBK electronics. It is still a private project, but well-supported by Ducati North America, which is why I feel that it is interesting and valid."
Share