Seeing Valentino further down the timesheets is nothing new, and rather than his position - 17th ("but I didn't use the soft tyre to try and set a quick lap") it's important to understand his sensations. Yamaha is continuing to work to improve the M1, trying to move forward step by step. They've made progress again today, but there's still a way to travel.
"We haven't found anything life-changing but some small details that, put together, might help us - summarises the Doctor - It hasn't gone badly and we worked particularly to improve acceleration and grip".
The 'double' wings seen in the past have also been pulled back out of the warehouse.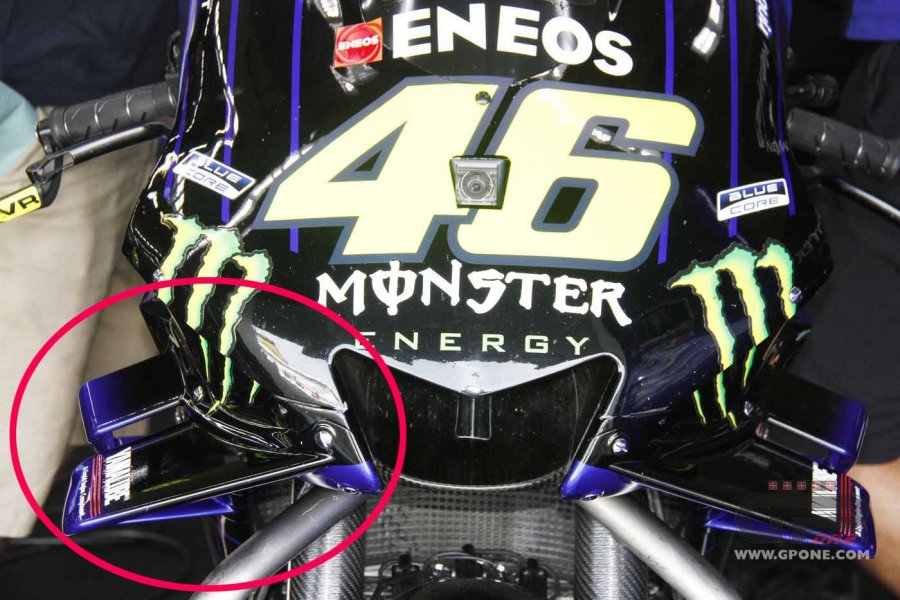 "The Yamaha wheelies a lot, particularly when behind other bikes, I realised while following the Hondas and Ducatis in races. Our wings are older in concept and don't generate great aerodynamic load, those I tried today are a little better though on the flip side is that we lose in terms of top speed".
No revolutionary new elements have come out of Iwata as yet, and the same can be said for Ducati, while Honda has debuted a new frame.
"What should I say?  smiles Valentino - Nothing new, Honda is always Honda. They and Ducati continue to work hard. And us? Ask the Japanese".
This time though, the Doctor doesn't want to create controversy, because he realises that things are changing (albeit too slowly perhaps).
"We are starting to see the fruit of our labour. Unlike the past, we are moving in the right direction, but it's still a tough challenge. We need time and it's a case of small stepsi".
Could having two strong fellow Yamaha riders like Quartararo and Morbidelli help in terms of bike development?
"Their speed is helpful, particularly for them!  - jokes the Doctor - Yamaha has perhaps set up the best project for youngsters in the championships, but on the other hand it means two more riders who can be up front".
The aim is still to be leading the pack, Marquez included.
"I'm 9 points from Marc but only because he made a mistake in Texas, else he'd have already won 3 races. He's definitely the strongest and to fight for the title we need to start winning races. Having said that, anything can happen in MotoGP, things change quickly. Right now, we need to take it day by day, focus on Le Mans and try to be competitive right away".
Before leaving the track, Valentino comments on the new medium rear tyre brought by Michelin.
"We'll only use it in Austria and Thailand, but I wanted to test it because it's harder than the standard and we usually struggle. I have to say it went well".
Share