James Douglas Beach did the deed. On a tough, flowing and selective track, on asphalt mottled and slippery from the earlier rainfall, "JD" took the win in the MotoAmerica Superbike class, making a long-time dream come true.
The extroverted and fun-loving rider - with a three-musketeers look - beat out some of his heros at VIRginia International Raceway, riders he used to interview when he was racing in the lower categories. The two-time American Supersport champ also accomplished a feat coveted by every American racer: last week, number 95 won the AMA Grand National Flat Track race held in Arizona.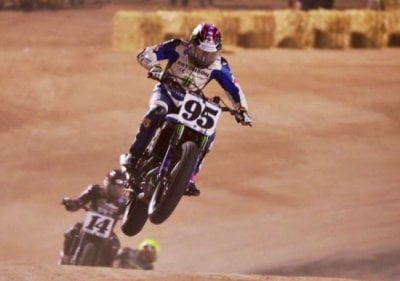 With these two wins in the different disciplines, JD is now a complete rider, as was Nicky Hayden, who accomplished the same important feat in the 2002 season. The Kentucky Kid was fast both on dirt and on asphalt, and apparently Beach is following in his footsteps.
After a good start with Dunlop slicks mounted, Beach took advantage of the sun which, drying out the track, tore up the rain tireson Wyman's Ducati, tenth across the finish line. With a decisive pass to get around Gerloff, the team Attack Yamaha rider moved into the lead and stayed there until the checkered flag: "Wen I was a kid I wanted to be a dirt tracker - the winner said after the race - I wanted to win races and I still do. To win this Superbike race is something I've looked forward to my whole adult life, since I was 16. So, they both feel amazing, but this has a little bit of a sweeter feel to it. To do it on the day that I did it and for the last person to do it (Nicky Hayden), it's amazing. Garrett (Gerloff) has kicked my ass so many times and I looked up to Toni (Elias). He's won the Moto2 World Championship... So, to beat them here, it's just amazing."
And so, with Garrett and Toni rounding out the podium, the others were left high and dry. Herrin struggled and Beaubier even crashed. It was a Sunday to forget for Josh and Cameron in a season that is still long and full of surprises, during which we could very well see frequent upsets in the rider standings, currently led by Elias with 126 points ahead of Beaubier with 102 and JD with 78.