Paolo Simoncelli was sitting in the pit, as if trying to bring order to the emotions that invested him in the last hour. Too many coincidences occurred in Jerez to be able to talk about a normal victory, if it can ever be called a success. The SIC58 Squadra (not team, like all the others) Corse was created  for Marco, so that his legacy would not be forgotten. Sic had won its 125th race at Jerez and, 15 years later, it was "his" team that did it.
"I'm excited about this," said Paolo. "Not only did Marco win, but his teammate, Jenkner, came second.  After 15 years, the same thing happened again. It's crazy, and it makes me think that maybe Marco is working from up there."
Maybe that's how it is, and he enjoyed playing one of his jokes, playing with memories. So, after the checkered flag, Paolo went to the blow-up of his son in the pit and gave it a kiss.
"It was the least I could do, " he smiled. "What would he say to me today? Marco pisses me off because he could have been here."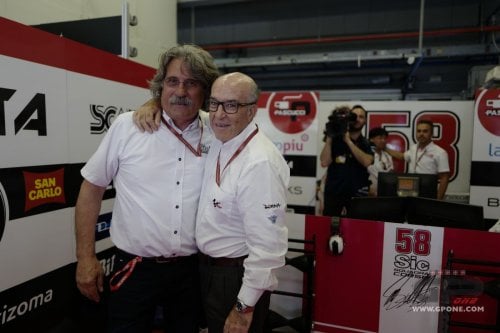 The sadness for those who no longer exist is once again tempered by a smile. Then Paolo has to interrupt himself because Carmelo Ezpeleta, the big boss at Dorna, arrived to compliment him: a hug, a few words during a special moment.
The feeling is that today's victory belongs to many. To all of Marco's fans, without color or distinction.
"This is a difficult world, but there are so many people who loved him and now us. I dedicate this victory to them," said Paolo.
It was not easy for him to return to the paddock, start over with a team, and hope to bring it to the top.
"Every time I arrive in Jerez, I only have fond memories," continues Paolo. "I'm delighted to have created a formidable team with a striker like Suzuki and a thinker like Antonelli."
Now that the ice has been broken, the road seems less uphill.
"Now we can take a breather. Certain strong emotions also make you grow old, but being that I'm already old, I don't worry  too much about it," he said, bursting out laughing. The adventure continues.