Jerez is right around the corner and Andrea Dovizioso, despite leading the World Championship, has no fond memories of the last Andalusian Grand Prix.
He couldn't overtake Jorge Lorenzo, as you all can recall, and then his race ended with the accident that involved Dani Pedrosa and two other teammates.
We can't say who was to blame. Certainly, Dovi came long in braking in trying to overtake Jorge who, in turn, went long, but he managed to close the trajectory not realizing that Dani was behind him, before braking really long.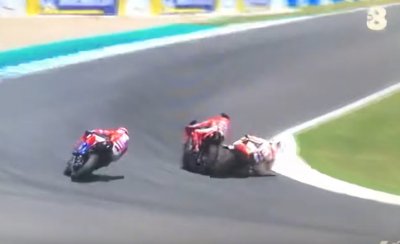 A racing accident, of course, but certainly far more avoidable than the one with Dovizioso and Iannone in Argentina in 2016.
So as to prevent repeating these kinds of events, this year Ducati built the team around Dovizioso who, at the moment, is paying them back with his temporary lead in the World Championship.
But is Andrea relaxed? We don't think so.
"It's still the beginning of the championship and anything can happen," said Dovizioso to Nico Forletta on Rai radio. "Marquez didn't win the first race, but he was very strong. He then dominated the second one and was also dominating the third before the error. The way he fell isn't strange because he always falls like that, but I didn't see why he had to push so hard seeing the advantage he had. He was dominating, but when you fall, you're still at the limit. It was strange to see him fall and not start again. It's also a hard blow to the Championship since he was always dominating in Texas."
Notice a word that the Ducati rider repeated several times? We'll give you a hint: "dominating".
That's right. Because without that slip up, Marc Marquez would be leading the World Championship today.
Let's see what the top rankings would be after three races without that error: Marquez 1st with 70 points, Dovizioso 2nd with 52, Rossi 3rd with 47, and Rins 4th with 44.
That's because Marc reaches the podium and is almost always first, at most, second, while the rider from Forlì, after his victory in Losail, would only be in  third and fifth place.
This is what makes Andrea use the word "dominate" so often when naming Marquez.
Let's take a look at his MotoGP results in Jerez: 2nd in 2013 behind Pedrosa, 1st the following year before Rossi, 2nd again in 2015 behind Lorenzo, then 3rd in 2016 behind Rossi and Lorenzo with Yamaha. And again 2nd in 2017 behind Pedrosa and first last year.
Just goes to show, always on the podium. After all, many have said it, from Giacomo Agostini to Kevin Schwantz and also Kenny Roberts: only Marquez can beat Marquez.
The Spanish rider still remains the favorite, despite his being behind by 9 points. Contrary to his usual, DesmoDovi aggressively approaches the GP in Jerez.
"The mess up in 2018 is behind us. I can't wait to be in Jerez. It'll be a new sensation for me because I was fast last year, even if I struggled to pass Jorge. I think we can go there and have our say."
What is Dovizioso's consideration based on? Simple.
"2018 was different from the usual. We were strong where we had never been strong before, that's why we have to take on the season calmly. The important thing is to have a good feeling with the bike, and I do. We had speed both in Texas and in Argentina, and we can bring it to Europe, too."
We'll soon find out if Andrea Dovizioso is right.