Usually, Jerez is a circuit that has no secrets for its riders. But, this year, things are a bit different. Last season, in fact, the riders complained about the resurfacing work, so the circuit directors met their requests by replacing most of the track's asphalt during the winter.
The problems have probably been solved, but they weren't able to organize tests before the Grand Prix, and Michelin will have to rely on the information gathered by the company that carried out the resurfacing works. Fortunately, the regulations comes to the rescue on these occasions and, for the race in Spain, the men at Clermont-Ferrand will be able to provide four options for the riders, both for the front and rear tires, instead of the usual three.
The riders will then be able to choose between four compounds: a soft one, a medium one, and two hard ones, with a symmetrical construction for the front and an asymmetrical one for the rear with a harder right side. If it rains, rain tires will be available in a soft and in a medium compound (the rear tires will also be asymmetrical in this case).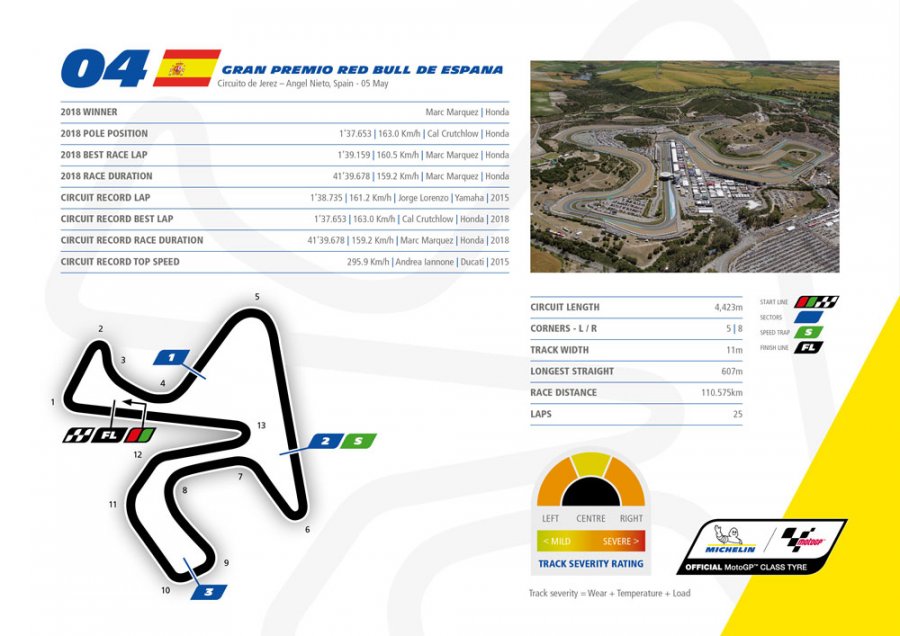 Piero Taramasso, Manager for Michelin on the race tracks, explains the difficulties he will face: "This weekend will be another big test for us,  and it echoes our return to MotoGP in 2016. That year, we were on many tracks where we had no data, and we'll be in a similar situation this weekend because the track has been resurfaced since we tested there last November. Because of this, we are authorized by the regulations to bring four  front and four rear specifications of slick tires, so we selected a range that we believe will adapt to the asphalt of the circuit, according to the information we received from the company that carried out the works. We're confident that we have the right compounds for the new asphalt, and we look forward to racing in Europe after a hectic start to the season."