It is all black, so much that it doesn't seem like a Ducati. Kyle Wyman's Panigale V4 R has winglets, but little else in common with team Aruba's factory bike that Bautista and Davies race in the World Championship.
The MotoAmerica version of the (black) 'Red' is very popular with the fans, even though "underneath" it is very different from the fully armed version that races in Europe. Team KWR has been able to tune only a few racing details such as the complete SC Project exhaust, the Öhlins suspension and the Brembo braking system. Almost everything else is stock. The Dunlop tires, on the other hand, are very high performance and comparable to real prototype tires.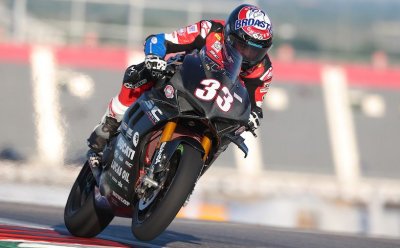 In spite of all this, after personalizing the position in the saddle, Kyle got on the throttle, not doing at all badly: in the wet at Road Atlanta he was strong and in Austin he barely missed out on a top five finish, battling hard and managing to make some spectacular passes on the corners. Where he struggles is on the straight, since he doesn't have the power and top-end speed to squeeze out of the engine.
However, Wyman, is waiting for help from the Bologna-based manufacturer. The New York native is unable to exploit the full potential of his V4 R, as he himself admitted: "I don't even know  what our max revs are - Kyle explained - Our bike has a completely stock motor and stock electronics. At the moment our struggle is that first and second gear are detuned in the stock bike and we have no way of unlocking it. We have like half power in those gears."
So, for the only team running a Ducati in the American series, there is a lot of work to do. Like solving the problems of competitiveness as soon as possible? Wyman concludes with a statement that says it all: "fOnce we receive our Marelli system, we'll be able to make the number 33 Panigale V4 R a real race bike." 
You heard, Ducati... hurry up! The American fans and the growing visibility in MotoAmerica could be good advertising for the most sought-after European bike in the States. Plus, beating factory Suzuki and Yamaha bikes wouldn't be so bad, would it?