Suzuki is finally back to winning ways for the first time since Vinales at Silverstone in 2016. In the meantime there have been many good races and 11 podiums for the Hamamatsu manufacturer's GSX-RR machines, its technicians having worked step by step to close the gap to Honda, Yamaha and Ducati. A man with an important role in this result is team manager Davide Brivio who reveals a "secret" anecdote.

"At the start of the season, in "secret" in one of our meetings, we set ourselves the goal of winning at least one race, we have 19 occasions and have already done it. Scoring a win in such a competitive MotoGP is not easy."
Alex Rins is definitely the man of GP. Strengthened by this first win in MotoGP, he's even been indicated by Marquez and Rossi as a rival for the title.
"Alex is really strong, Marc's crash in Texas facilitated things, it's true, but after taking fourth place at Misano last year, something's been set off in him. He's always been up there fighting for the podium. I think it's premature for us to talk about winning the title, and I don't think there's any point talking about it for now. Now we head to Jerez where the championship really begins, our rivals will be battle ready. We need to continue like this, try to run with the top five race after race and then we'll see where we are".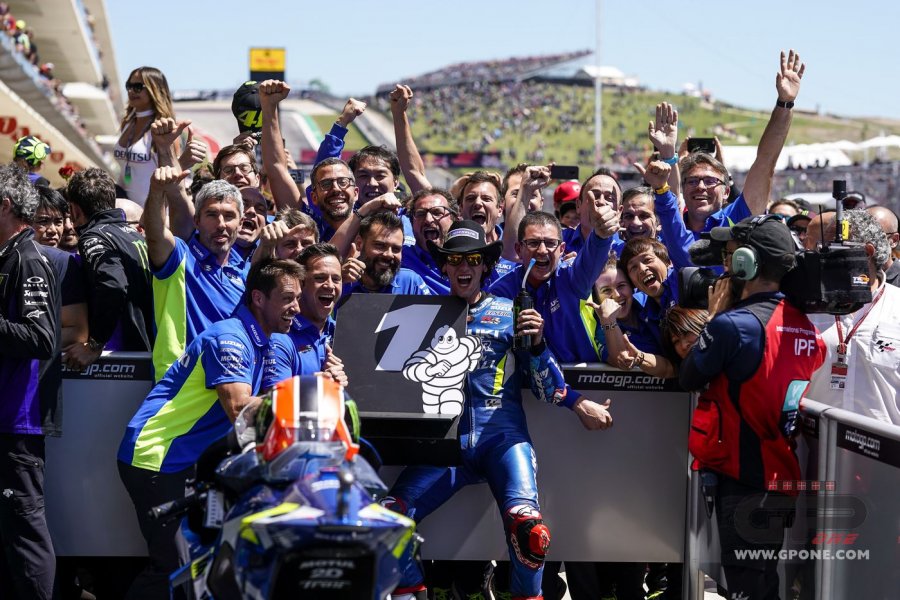 As well as putting the brakes on his enthusiasm, Brivio should also enjoy the success of a rider who is developing quickly in this championship, as is the GSX-RR, lovely to watch both in terms of its design and its fluidity on track: there are those that say that Hamamatsu is getting back to the times of Schwantz.
"Rins is developing fast. After finishing fourth in Misano, like I said, he's been consistently there fighting for the top position, riding really well and making very few mistakes. He got nothing wrong here, nor in Argentina, while in Qatar he made a desperate attempt to defend himself from Crutchlow. We felt we'd thrown away two podiums in those last two races, but this win changes everything. Winning can unblock a rider, I don't think this will be a one-off, he also rode very well against Rossi, a real test of maturity…".
Valentino did his best to hold on to the race, but the Spaniard appeared to have a little more. On the last lap, the nine-time champion tried to do the impossible, getting very close to being able to make a pass. A duel that must have entertained Brivio no end, considering his close ties to Rossi.
"The final lap was crazy – confesses Brivio – when it began I was fairly calm, because we had 6 or 7 tenths advantage but then I saw Valentino moving closer and I started to image an attack at the final corner. Fortunately things went Suzuki's way this time. Fighting with Rossi is very strange, we spent so many years together in Yamaha. In parc fermé we hugged with Uccio and Vale told us where to go, in good nature, it was funny". 
Brivio seems almost sorry at having prevented his former pupil from winning.
"Am I upset for having 'stolen' the win from him? He wouldn't be if he'd taken it from us! I'm not crying over it, there's a healthy rivalry with Rossi.... things have gone his way many time (he laughs). In any case, Vale is incredible, he never ceases to amaze. You have to admire his motivation and desire to win, after everything he's done in his career, that's not easy".
Share