In Hamamatsu they should be happy. It was a hat trick in Texas with Suzuki setting the bar, thanks to wins by Alex Rins in MotoGP and Toni Elias and Josh Herrin in MotoAmerica.
That's right, because in Race 2 of the American series, it was the rider from Glendale finishing ahead of the rest astride his number 2 team Yoshimura factory GSX-R. We said they should be happy in Japan, although the team, with its many Japanese techs, is based out of Chino, California.
In a race that was close from the first to the last lap, Josh managed to get the better of his teammate and Beaubier, stepping up the pace unexpectedly: "We ran a different tire today - Herrin said at the post-race press conference - My bike was a missile today. Hopefully the team stays the way it is and we can fight all year and get a lot of 1-2's like this. It feels so good to be able to get a win for Suzuki. Two wins this weekend. They won a MotoGP race, so it's a big day for them." In all fairness, with such a bumpy track the right choice of Dunlop tires to absorb shocks and maintain grip was fundamental at CoTA.
Elias and Beaubier were unable to stop Herrin, who has now won seven races in the Superbike class. Of course, Josh was not exactly an stranger to the World Grand Prix Motorcycle Racing staff, since the Californian raced in Moto2 in 2014. Now Toni and Cameron have confirmation of a third contender in the battle for the title.
From Garrett Gerloff's fourth place to Travis Wyman's ninth, the gaps between the bikes got wider: Yamaha, Suzuki, Ducati, Kawasaki and BMW paint the multicolored picture of Wayne Rainey's MotoAmerica. In this group, the Panigale V4 R raced with head held high as a more "broken-in" bike and with some direct factory assistance. 
Of the riders on the grid, 14 went the distance, but JD Beach was not one of them, with South African Mathew Scholtz next-to-last and clearly in difficulty: the lanky rider and his black and gold R1 were unable to repeat the winning performance from 2018.
Rider standings: Elias 90 points, Beaubier 77, Herrin 49.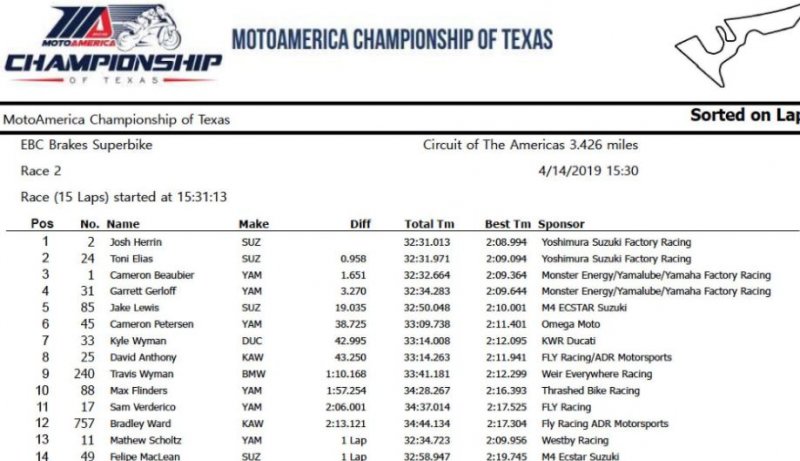 Share