Suzuki strong and solid in Austin on a track that is technical, spectacular e... full of turns, potholes and bumps. 
Despite all the jumps and bumps in braking and acceleration, Toni Elias flew through Superpole and gave the team Yoshimura GSX-R a starting spot on the pole for the race tomorrow, scheduled to be held along with the World Grand Prix Motorcycle Racing Championship in a Texan paddock full of reporters and fans. The Spaniard stopped the clock at 2'08"538, beating his teammate, Herrin, by half a second - confirmation that the four-cylinder from Hamamatsu is in grand form.
Elias has already won 5 races at CoTA and, starting ahead of the rest tomorrow, he has laid the groundwork for the sixth victory: "I'm not a guy who takes many poles - Toni said during the press conference at the end of the day - but today we were more ready and we did first pole of the year, so I hope some others will come. It's going to be a difficult race for the tires. There's no one tire which we are sure to make the distance. Some tires are difficult. Medium tires are very difficult." The number 24 rider and his brand new helmet are ready to win again after the success at Road Atlanta.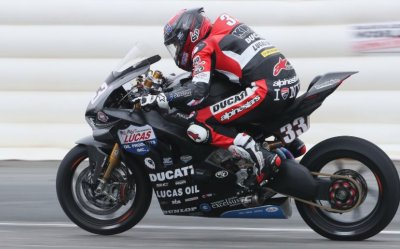 However, Toni will have to watch out for number 2. The former Moto2 and MotoAmerica champ knows that his first rival is wearing the same colors and riding the same bike. But Herrin and the second factory Suzuki struggled, and the front row is like a victory for him: "The session was pretty terrible - Josh said - We fixed some things on the bike and that helped a lot. I know we didn't even get pole. We got second, and it's not a race, but it feels like it to me.No better way to go into the race than being 1-2 with Suzuki, so I'm pumped for that."
Of course, the Gixxers could pull of a one-two, as long as Cameron Beaubier doesn't mind. The defending champion and Yamaha will be lying in wait, anxious to leave Texas with the championship lead: "This has always been a track that we've struggled on pretty bad. We were able to lead both practices today. So, I'm really happy with that. On the front row and ready to go racing with the boys tomorrow."  the team Monster Energy number 1 rider commented.
Keep an eye on Garrett Gerloff too. He is on his home turf in Austin and he needs to make up for his bad luck in Georgia. Mathew Scholtz will also be right there with him - winner of the Saturday race in 2018 - not to mention JD Beach, Jake Lewis and Jacob Gagne, as close as three bugs in a rug with Yamaha, BMW and Suzuki. Kyle Wyman's Ducati is also looking good, a black and aggressive Panigale V4 R starting from the third row of the grid.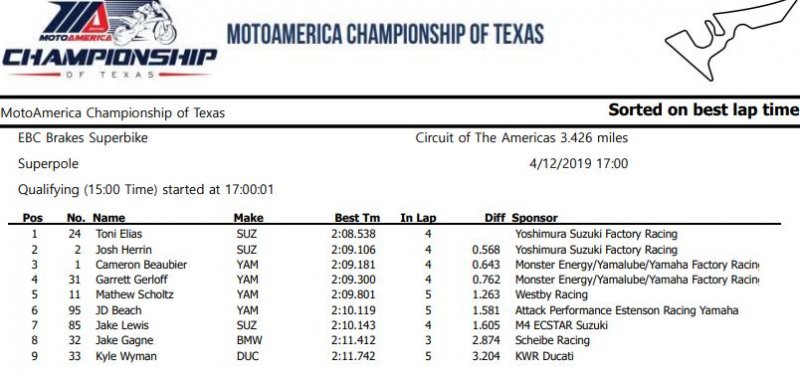 Share