The Yamahas have tightened Marquez in a vice, but we can't say he's trapped. Vinales got the best time at the end of the day's free practice sessions in Austin and Rossi was 3rd. Marc is exactly in the middle, but the two riders in blue know he's still ahead.
However, on a track that puts a strain on all the bikes because of the potholes, the M1 seems to behave well. It's not a coincidence for Valentino, but the result of a job started a few weeks ago.
"In my opinion, we took the right direction Sunday in Qatar," he explains. "At that moment, we found the right balance, and we brought it here. I didn't made big changes to the bike in Argentina and, even today, the groundwork is good."
And that's what was missing last year, when he was in pursuit every weekend.
"That's how it was," he confirms. "I now have a strong work group that works on my bike, and I'm also talking about the  men from Yamaha. There are people it's a pleasure to work with. They're good, and we've taken the right path. But it's still long. There's a lot of work to do because we've made too many mistakes in the past two years and lost a lot of time. It won't be easy against Honda and Ducati, but I'm seeing some good things."
Valentino continues to push for more innovative ideas, and the spoon launched by Ducati and brought to Texas by Honda is one of those.
"It's something that could help us because it cools the rear tire, from what they declared," he explained. "I asked Yamaha for something similar, but don't ask me when it'll arrive. I don't think it will make a big difference, but it would still help."
Now we need to think about the near future, which is the Texas GP.
"I'm happy with my 3rd place today, but it's all more difficult with race tires," he confessed. "Right now, I'm behind by half second on the pace to be with Marquez and Vinales, the two fastest.  I'm generally happy, but we need to do better than this to fight for the podium."
Even the Doctor talks about the conditions of the track.
"Surely, it's the worst track on which we race, in this sense," he said. "It's like being on a mountain road because of the holes.  The only positive note is that the asphalt is cleaner than usual and Turn 10, with its new asphalt, has improved, but they should do the same job on at least two or three points. The problem is that it would take a lot of money to fix everything. They tried to patch it up in the past, but they only made the situation worse. Either they redo everything, or it's better to keep it as it is."
VINALES: "I THINK I'LL KEEP UP WITH MARQUEZ... AT LEAST FOR THE FIRST FEW LAPS."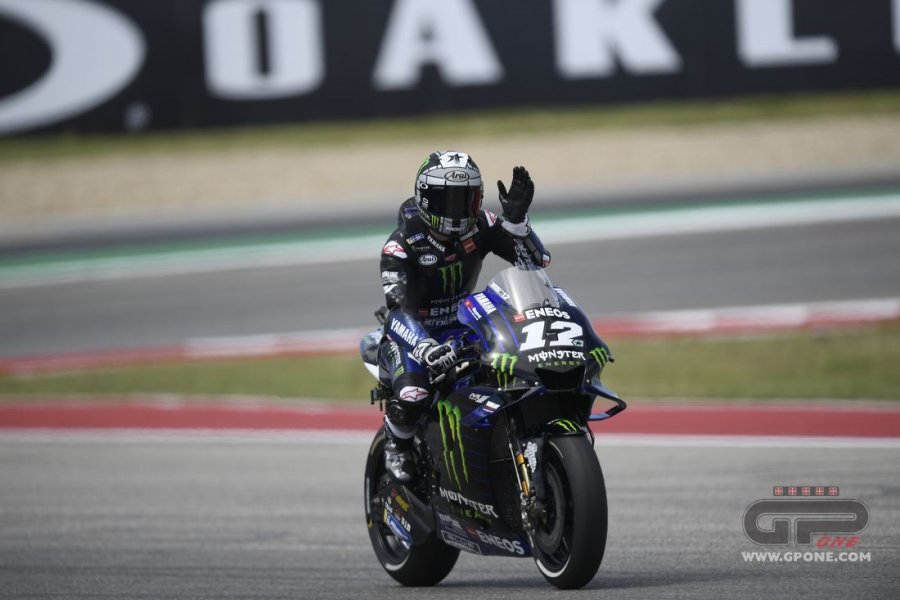 The holes, on the other hand, don't disturb Maverick Vinales at all, who was the fastest today on the flying lap. "I like it when the bike moves because you need a wilder driving style," he smiled. The Spanish Top Gun managed to tame his M1 and, this time, he looks like he's really in good shape.
"We started out more competitive, but there's still a lot of work to do. We managed to make up a bit on the gap with Marquez, but he's strong," he underlined. "We need more traction because the bike is perfect with new tires but, when they're worn, you need to improve."
There is still a day of testing (rain permitting) to fix the last details.
"I'm optimistic about the race because my pace is not far from Marc's," he continued. "I like this track, and we're working hard. I think I can keep up with him in the race, at least for the first laps. Also, we understand the problems we had in Argentina, and the solution was simple. Some changes to the setting were enough. The start? I made progress there, too."