The MotoGP might go back to racing on one of the most beautiful, historical circuits: Spa-Francorchamps. It is not simple, but it is what the government of the region is planning. "We approved an investment plan with the ambitious goal of uniting motorcycles and the F1 on the most beautiful circuit in the world," Pierre-Yves Jaholet, Vice President of the Walloon government, wrote on Twitter.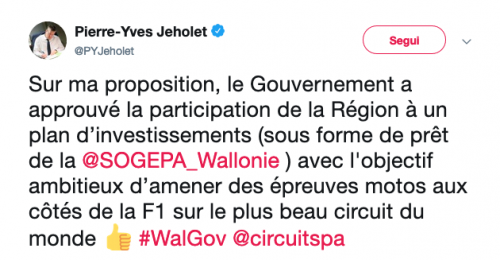 There are investments for 29.5 million Euros at stake, while 2024 is the date towards which they are aspiring for the return of the MotoGP to Spa.
The Belgian track hosted its  first motorcycle races in 1921 and, in 1949, was one of the circuits of the first season of the championship. Bikes raced at Spa from 1949 to 1990 almost interrupted. In 1980, the Belgian GP moved to Zolder. For the record, Hans Spaan in 125, John Kocicnski in 250, and Wayne Rainey in 500 were winners in the last edition.
It is still too early to dream of the MotoGP racing on the Eau Rouge but, at least, there is still hope.