There will be one more problem for Michelin in Austin, during the Circuit of the Americas. In fact, the track underwent work to try to reduce the bumps that had disturbed riders in recent years. This is a procedure similar to what was carried out in 2018 using machinery to smooth the asphalt but that, however, didn't give great results.
Since there was no possibility of organizing tests, only Friday will we have an answer on how the asphalt will behave when the riders will be on the track for the free practice sessions. The CotA, however, has always been a track that is not at all gentle on tires: the long straight (1.2 kilometers), the corners, and an abrasive surface are the difficulties that the Michelin technicians will have to face.
There are three compounds for the slicks, as per regulation (soft, medium, and hard), with all symmetrical front tires and the rear  tires with a harder right side. In case of rain, the rain tires will be in a soft and medium compound, and the rear tires will have an asymmetric right-hand side.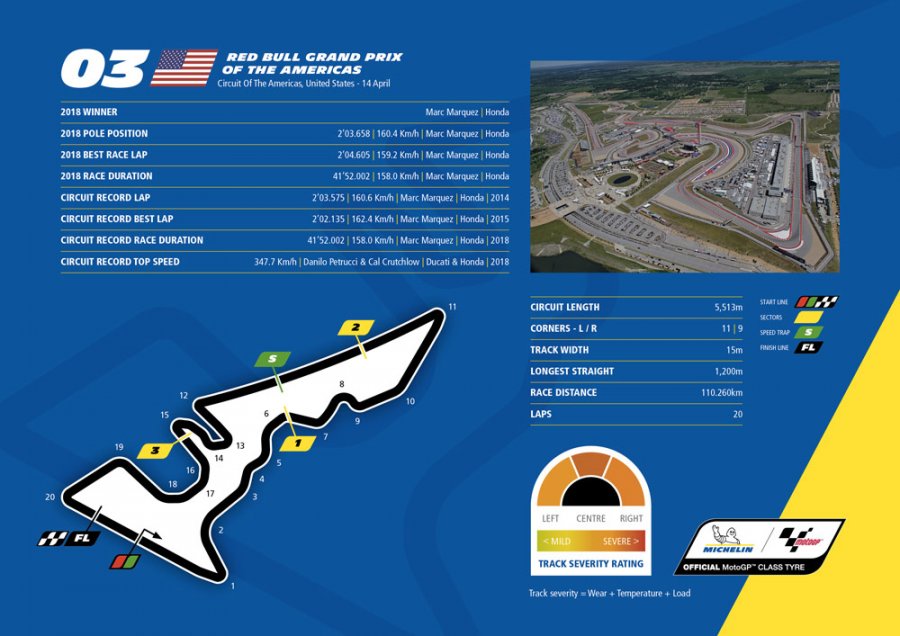 "Austin is a very demanding circuit for all involved and, this year, it feels like we are going there again not quite sure what to expect," said Michelin manager Piero Taramasso. "The track has had some more repair work to try to smooth out the bumps, so it will be a case for all to see how it performs and how the asphalt works compared to other seasons."
"We have a strong line-up of compounds, which we think are ideally suited to what we expect from the track and will give the opportunity to push for some very strong performances and fast times but,  until Friday morning, we don't completely know how the circuit will behave," he concluded.