The second race at Road Atlanta did not exactly go well for Kyle Wyman. After a nice sixth place finish in the race on Saturday, the Ducati rider took a spill on Sunday which resulted in zero points for team KWR.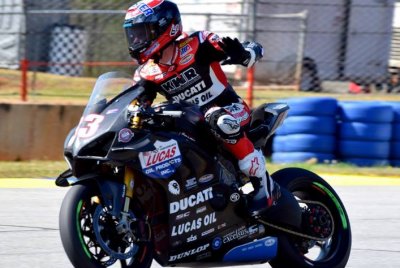 The black Panigale V4 R went wide on a left-hander and the number 33 rider, while attempting to rein in the beast on the treacherous grass, found himself sliding and then tumbling. The bike hit the air fence and sustained damage. Fortunately, Wyman remained conscious and was on his feet right away, maybe a bit angry, but certainly uninjured.
Pit lane was a fair distance away and making the trek over the Georgia hills in leathers, helmet and gloves is no enviable fate. However, Toni Elias offered Kyle a lift, so he perched on the tail fairing of the race winner's Suzuki GSX-R.
One cannot help but wonder what the two rival riders may have chatted about on that short trip to pit lane. One thing is for sure: the Ducati rider ignored that parental advice of "never accept a ride from strangers" yesterday in Georgia.
Click the image above to watch the video.
Share