Garrett Gerloff, we had told you yesterday: watch out, because tomorrow the music will change. And change it did. 
Yesterday, the team Yamaha Factory Texan had dominated the scene with his R1 on the wet and then on the dry track, but the top riders were cautious and taking no risks: Cameron Beaubier was sizing up the track at Road Atlanta with the 2019 version of his four-cylinder from Iwata, and – in fact – today he attacked.
In an initial battle with Toni Elias (it is bound to be war throughout the season between the Californian and the Spaniard, but a gentlemen's war), Cameron exploited the mistake made by the Suzuki rider who went wide into the gravel. Back on the track, the number 24 rider was unable to make up the ground and time lost behind the number 1 defending champion's Yamaha. Unlike Toni, his garage mate, Herrin, crashed out for a DNF.
Beaubier therefore took his first MotoAmerica 2019 win, expressing his satisfaction with engines off, but still hot: "All in all I'm really happy - Cameron commented - because yesterday, after the struggles we had, I was like, 'this is the first round, this is first-round bullcrap.' I had a really good practice this morning. Just got loose and felt more comfortable on the bike. I was back in 11th place, so I was able to slowly work my way up the first couple laps. I was watching the show. I was watching Toni (Elias) and Josh (Herrin) stuff each other, so it was pretty wild. I slowly started seeing them come back. JD (Beach) and Matty (Scholtz) were riding really good. I could not find any way around them. I was struggling a little bit off the last corner onto the back straight, and also the last corner onto the front straight. It was tough to line something up on the brakes. Toni kind of handed me a gift there a little bit. It would have been a little different. It definitely would have been a dogfight there at the end. I'm really happy the way the season started."
After a difficult race, six riders were battling for the three steps of the podium. Elias had made his mistake on the eleventh lap, but Toni was able to rejoin and work his way back to a final second place: "I had some trouble in the start. The bike didn't go to neutral, then stayed in second. Then I just tried to overtake a little bit, little by little. Then I see Gerloff crash in front of me. Start to battle with my teammate Josh Herrin. Then we lose a great opportunity to be one and two. We have to learn that for the future. But the races are like this" commented Toni, former Moto2 champ and 2017 title-holder in Wayne Rainey's series.
Rounding out the podium was JD Beach, a new star who has come up from Supersport. With the Yamaha managed by team Attack - a team which had tried to sign Marco Melandri at the end of 2018 - the wild-haired and bearded number 95 took his first prestigious result, beating out South African Mathew Scholtz, fourth on his gold, black and red R1.
Behind them was David Anthony on his Kawasaki and then the Ducati, a much-admired bike in the Road Atlanta paddock. Kyle Wyman put in an outstanding performance, finishing sixth on a bike that is entirely new for the American rider - the new Panigale V4 R - skillfully keeping his distance from the more 'broken-in' bikes. It was a good result for Jake Gagne too, eighth with the new BMW, in a race where 13 riders finished. Garrett Gerloff crashed out, fortunately without injury. Chin up, Garrett, tomorrow you'll have your chance for redemption and to show everyone how fast you are.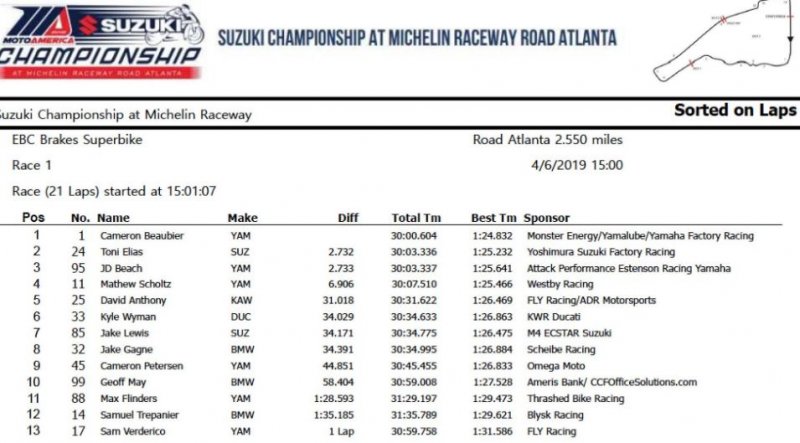 Share