Team Yoshimura is ready, with Toni Elias and Josh Herrin chomping at the bit to get back onto the track.
At Road Atlanta, the first of the ten MotoAmerica 2019 season rounds will be held and it is always a pleasure to present teams and liveries before the start. The Suzuki GSX-R 1000 machines now flaunt a color scheme that is partially reminiscent of the street-legal version, personalized by Yoshimura, an organization that is always attentive to every technical and graphic detail.
Yellow was and still is Elias' color. Not "lemon" yellow, but "banana" yellow. With this color, Toni won a Moto2 world championship title and a title in the USA. For the number 24 Spaniard, the mission remains the same - to take another shot at it: "I have been waiting all winter for the season to begin - said Toni, 2017 champion of Wayne Rainey's series - My off-season preparation was very strong and testing has been positive for the team. My goal is to win back the championship."
The rivals will not be standing idly by, and Elias is well aware: "Of course, it will be a great challenge with the other strong riders in the series, including my own teammate. My job will be to ride to my potential and I believe we will see excellent results."
Toni is right. He will be sharing the garage with a certain Josh Herrin, the California boy who won two AMA titles between Superbike and Superstock. Josh also raced in the World GP Motorcycle Racing Championship before returning home to ride on American soil.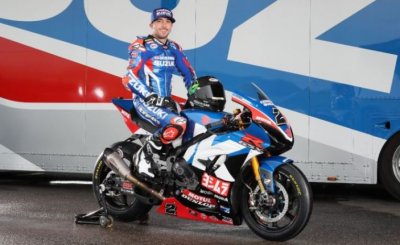 Herrin's number 2 is red, like the theme of his new challenge: "I'm really excited - he commented enthusiastically - about joining Yoshimura Suzuki. I was really happy to find how smoothly the team works together and how Toni and I worked together so well in pre-season testing. Now I'm just anxious to get out there on a race weekend to show what I can do.".
To better understand just how much Suzuki believes in American racing and how important it is to them, here are some stats. Between AMA and MotoAmerica, the Yoshimura GSX-R bikes have taken home no less than 203 individual races, taking win number 200 with Elias last July. Many champions have lifted trophies high on behalf of the Manufacturer from Hamamatsu, including, just to name a few, Wes Cooley, Kevin Schwantz, Mathew Mladin and Ben Spies. Not too shabby, eh?
Share