It's his second time qualifying in the Superbike but, apparently, Alvaro Bautista is one of those who quickly shoots to the top. After having laid down the law in the three practice sessions, Alvaro saw it fit to repeat the same in the Superpole, playing the part of the absolute star.
His 1'31.912 time gave him the first spot on the grid in view of Race 1, which will start at 10am (Italian time). For the occasion, the Aruba rider has shown to have a leg up on everyone to the point of being the only one able to break down the 1'32 wall. His superiority was evident, but now he'll have to confirm to be just as good in the race, when Kawasaki's Cannibal will be ever more hungry for redemption.
Just like in the practice sessions, the four-time world champion was the first of the pursuers in this occasion, as well.  But beware of the rival's gap, about half a second. To be exact, 429 thousandths, which certainly did not go unnoticed. However, the Northern Irish rider preferred to wait for the afternoon, when he will be called to launch the attack.
In the Buriram Superpole, there was good news for Yamaha. Precisely because there is also room for Alex Lowes' R1 (+0.528) in the front row, seen as a favorite for the race towards  the lowest step of the podium. And what can we say about the rookie, Sandro Cortese, who will open the second row along with Leon Haslam's Kawasaki, not exactly at ease on the Asian track.
Remaining on the Yamaha theme: a bittersweet session for Marco Melandri (+1.090), only seventh behind Sykes' BWM, while Laverty's and Davies's Panigale V4s are right behind him. Apparently, the Welshman didn't get what he wished for, which sees his own delay going beyond a second and two tenths. Closing the top ten is, therefore, the R1 of a disappointing van der Mark, and Camier's Honda in 13th.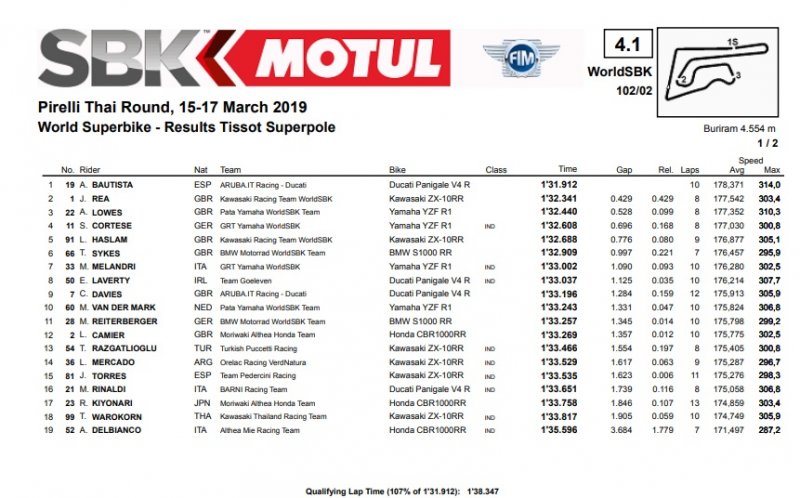 Share