Dovizioso won the World Championship opening in Qatar beating Marquez by 23 thousandths in the sprint, but the real star of the Grand Prix was, once again, engineer Gigi Dall'Igna. The Director of Ducati Corse, in fact, suffered a frontal attack from his rivals that - Yamaha aside, due to reasons based on ... technical similarities - raised a protest at the end of the race. A legal act that, rejected but immediately appealed by Aprilia, Honda, Suzuki, and KTM, consequently froze the result, declaring it sub judice.
In the bedalm that was created, everyone spoke up, except him. He did it with GPOne.com in the following interview, and you can also hear the AUDIO at the end of the piece.
- Everyone has spoken regarding the complaint, except you, and you're the person most involved. What's your opinion?  
LACK OF COMPETENCE - "In fact, I've seen so many unskilled people talking about the issue. Even during the meeting they had to discuss the protest, there was only one technician, ours, Fabiano Sterlacchini.  The others were not very technical and also poorly prepared to deal with that issue.
For example, one of the things I heard, and that left me puzzled, was that it wasn't necessary to cool the rear tire in Qatar, with the cold there was there. I believe that everyone on TV saw the smoke that the Suzuki left behind when accelerating at the T11 curve. Qatar is one of the most demanding for rear tires, and many had problems. So, the fact that so many said that ours was just an excuse, probably means they didn't understand much."    
-Other manufacturers say you were warned of the possibility of this complaint, so why did you decide to use the "spoon" instead of waiting for further clarification?
"Why do I have to wait for clarification? I am absolutely convinced that I have a legitimate solution to use on the bike. And why does my enemy come to tell me that I must not use it? It's senseless. I'm convinced that this solution falls within the regulation because it fully respects it. Because we had approval by Fim's Technical Director, who is the only one who can judge whether a piece is regular or not. Among other things, the regulation, which was not wanted by me, but by my opponents, says exactly this."
"The heat transfer coefficient depends on air velocity."
-Those who presented the complaint claim that the appendages, thanks to the winglets inside, can generate an aerodynamic load. How do you respond?
"That they may generate a load is a somewhat strange statement. The regulation or, rather, the guidelines issued by the TD, say that you can use a spoiler, something attached to the swingarm, which is used to cool the tire, and prevent water or debris from entering it. The important thing is that the purpose of this system is not to generate an aerodynamic load. I repeat, the purpose of our system is to cool the rear tire. The winglets that we have are used to increase the speed of the air in that area, but precisely because the heat transfer coefficient depends on the speed of the air. Therefore, we have created a system that tries to cool the rear tire as much as possible. And that's the objective of that system. Whoever says that no piece is attached to the bike that has no purpose is absolutely right. I absolutely agree. I would never attach a piece on my bike that would not allow me to increase its performance. In fact, I'm increasing the performance of the bike with this system, not because it generates downforce, but because it cools the rear tire. And, I repeat, in all recent races, managing the rear tire is the key to winning the races. And it was also in Qatar."
"The tests performed certify that the rear suspension does not get crushed."
- Can this be demonstrated with the tests you carried out in the wind tunnel?
"No, no. It's much easier. We also did some tests on the track that are much more realistic, and we have all the data from these tests where a significant reduction in the rear tire temperature is demonstrated, and where it is certified that there is no crushing of the rear suspension. It's relatively easy to prove that our system does what we wanted, that is, to cool the rear tire.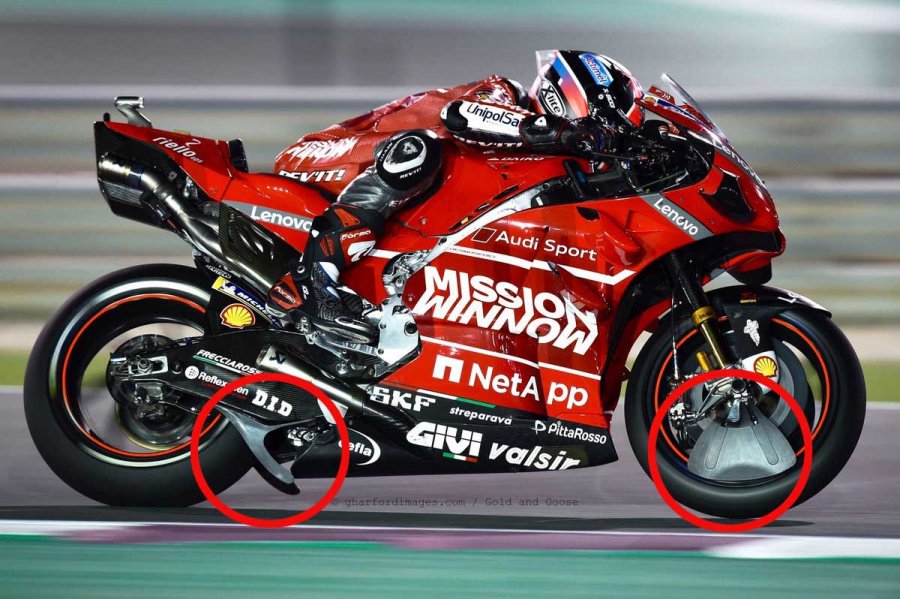 -Does the hypothesis that this appendage can help the stability of the rear wheel when braking make sense?
"Let's say it's not the objective they had in mind when we thought about that system. I'm absolutely serene and calm from this point-of-view."
-And if it was an unintentional consequence?
"The regulation is clear. The guideline issued on March 2nd, therefore, a week before the race, says that you can use a system to cool the tire, to remove water from the rear... but the objective - the purpose - should not be to generate a downforce."
"Thinking of improving braking stability with that thing is simply ridiculous."
-Being the devil's advocate, couldn't the spoon also, even if incidentally, increase the load on the rear tire when braking?
"Come on, don't make me laugh. Thinking of improving braking stability with the load generated by that thing there is simply ridiculous."
-Those who protested claim that the two appendages mounted on the sides of the front wheel are used to direct and clean the air flow in that area...
"Do you think that, at the beginning of the season, when I can still get my hands on the fairing, I'd go and attach a winglet to the wheel, that is, with a wall behind it, instead of moving it, who knows, 30/40 centimeters and, therefore, making it more efficient from an aerodynamic aspect? Because I'll tell you: I could have easily done that,  since I still had to present the homologation oforthe fairing. Why should I put a winglet attached to the rear wheel in an area that is certainly less efficient, where there is less clean air? I don't get that.
What those two things do there is one thing, but even if they cleaned it, I would go to work in an even cleaner area if I move away a bit from the rear tire. That's for sure."
"Why didn't they complain against Yamaha last year?"
-Can you tell us how this complaint against Ducati came about?
"I can say another thing. Why do they do this to Ducati now and didn't do it last season against Yamaha? This is a question for those who are directly involved.
And can I then say something else? Is it reasonable to protest instead of asking for clarification within the MSMA?
I'll explain how things went. We tested this system during the Qatar tests, and we saw that it gave us certain results, like it did on paper. We had that confirmation. And so we asked the TD for a clarification of the law that, once he saw and evaluated the drawings, issued a guideline because we told him that we were inspired by what Yamaha had done, and he wanted to shed light on this by issuing this guideline that included our system. Except for Yamaha, no one asked Aldridge anything. In the guidelines, there was also something in the front that was not good for Yamaha, for its caliper ducts, and they asked for it to be enlarged, and they were the only ones who asked to do something. All the others didn't say anything until the Saturday of the race when they came to tell me that they would protest. All four. But does it seem like a fair, correct way of doing things? I don't think so. Once Aldridge has issued a guideline, if I don't agree or I need clarification, I send an email and I also ask for an urgent meeting at the MSMA to discuss the matter and find solutions. No one did this.
"I'm serene, and I'm waiting for the appeal with peace of mind." 
-What do you expect from the appeal that was presented?
"I'm serene, and I'm calmly waiting tfor he appeal. I'm convinced that my solution is absolutely legitimate because otherwise, since I don't consider myself stupid, I wouldn't have gone ahead and mounted that system on the bike."
"The cost increase? The seamless gearbox costs much more."
-The manufacturers that protested say that this continuous development in aerodynamics leads to an increase in costs and betrays the spirit of the regulation. What's your opinion?
"That really seems absurd to me. In last year's tests, Marquez admitted that Honda had brought four different bikes when he had to figure out which way to go. Those are real costs. It would be like saying that when Honda introduced itself for the first time with a seamless gearbox, all the others, instead of adjusting to find similar or even better solutions, had gone to the federation to have the seamless gearbox, that costs a lot of money, banned. That's not right. When you have an idea, if someone has a better idea than mine, I just tell him he did well and try to understand what I can do to do better than him. The racing world has always been like that since I know it."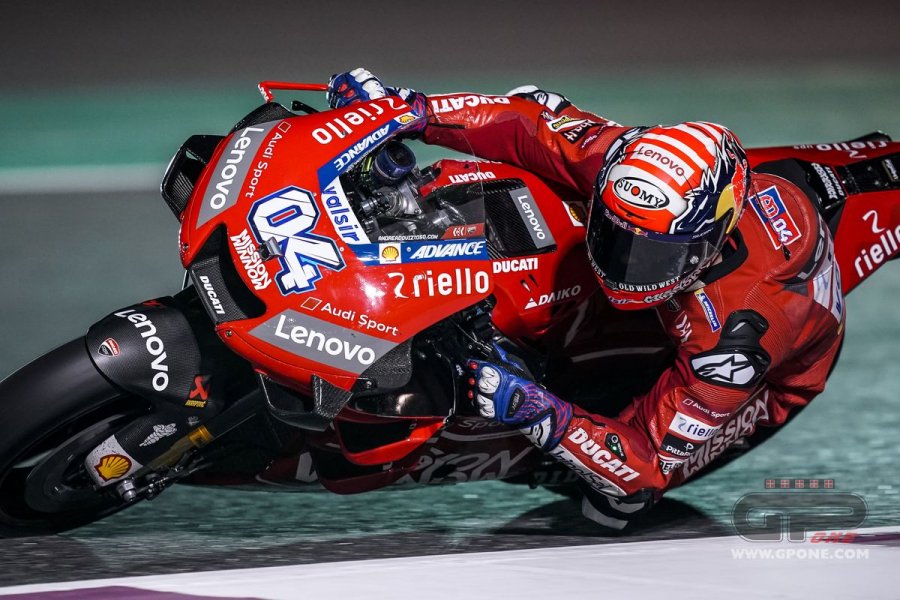 -Do you feel persecuted?
"Now, every time Ducati does something new, even wrong, everyone is ready to raise their finger and ask for a change of regulation. I repeat the same identical thing, even if Yamaha did it for different reasons last year, no one moved a finger. It seems strange to me."
"To change the rules, you don't protest, you ask the MSMA for clarification." 
-You look very disheartened by this situation...
"I think things should be done differently. You don't protest if you want to change the rules. A meeting is held within the MSMA."
-Is there anything that doesn't work in managing or drafting the regulations?
"You know, the regulation is simple as it's written. There is a person who has the right to decide whether something is legitimate or not. The way the regulation is written now, if you have this person's approval, you're legitimate."
"Now maybe I'll try to reason on some of my opponent's regulatory problems."
-Does Danny Aldridge have the technical skills required to approve each device?
"Listen, we talk to him and his staff, like everyone does. I honestly cannot say that I never found a reasonable compromise among all the parties when we discussed with Aldridge. I expected this to be the case this time, too. Now, maybe I'll go there and talk about some regulatory issues that our opponents may have and make a complaint. But doing so will completely disrupt the rules that they themselves have established. Because, I repeat, I didn't agree to create a regulation like this one.  The regulation should have been much more detailed and much more descriptive than any rule. But they themselves voted for it and favored this type of regulation, which is also positive because it is very simple. Because when you have a person's OK, you're sure you're right."
 "I'll go with the same configuration to Rio Hondo, in Argentina."
-If the FIM Court of Appeal doesn't rule before the Argentina GP, will you continue to mount the "spoon" at Termas de Rio Hondo?
"I will absolutely go with the same configuration that I used in Qatar, because, I repeat, I consider it legitimate. And I can't be intimidated by my opponents. On the contrary."
Click and listen to the complete audio of the interview with Gigi Dall'Igna.