Finding a five-time Formula 1 world champion in your pit certainly doesn't happen every day. A situation that was even stranger considering that the champion in question, Lewis Hamilton, is also a big motorcycling fan, to the point of continuously asking information about the bike, many technical details, and driving style.     
Franco Morbidelli experienced a very unusual situation. In addition to the excitement for having debuted on the Yamaha M1 in the qualifications, he also found himself living a truly unique experience, which seems to have impressed him a lot.
"He gave me his helmet with a Christ the Redeemer on the back, which has a special meaning for me, since I love Brazil. It was a great experience to find out what kind of person Lewis Hamilton is. It was nice to be pleasantly surprised by his humility, his subtlety, and his interest in this sport."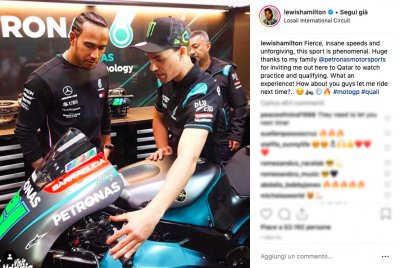 The way it went, it seemed like he was asking lots of questions. Tell us about it.
"He asked many questions, even some very technical ones. He wanted to know if I use the rear brake a lot and what it feels like when you fall and you know that the mechanics have to repair the bike and feel conflicting sensations. He asked me a lot of really cool questions!"
Thinking instead of what happened on the track, how did this first qualification of the season go?
"Good. I'm fast enough with used tires. I'm fast in general. I had some problems in the FP4, especially  with the front tire. I really wore out both front tires that I mounted, so I couldn't take advantage of everything, unfortunately. But we'll try to change something tomorrow and make this front tire last longer."
Do you have problems with a particular compound?
"I ruined a medium and a soft one. I alternated and ruined both. We still don't know which to use in the race tomorrow. We have to study everything and see. We still don't know if it's best to use a  medium or a soft even for the rear, but we'll try to make the right choice."