Suzuki may not compete in WorldSBK, but it can count on a consistent presence in the BSB, thanks to the Hawk Racing team that, in 2018, fielded a young British talent. We're talking about Bradley Ray who, as well as playing a starring role in the British season, also took part in the Suzuka 8 Hours with Team Yoshimura, finished in tenth place overall along with team-mates Guintoli and Tsuda.
Ray had never seen Sepang prior to this test, so he first completed some laps on board Team Yoshimura's GSX-R, the team also on track with Tsuda and Kagayama. Today Bradley had two fifteen-minute sessions in which to experience the MotoGP bike, a sort of prize test. Clearly the Brit's talents are not going unnoticed by managers in Hamamatsu.
We spoke to Bradley shortly after his test, collecting the impressions of a rider whose dream has come true.
"Riding the MotoGP has been like living a dream that I've had since I was little. I can still barely believe it's happened. I'm so happy, it was so much more intense than I could have imagined".
How did it go, what do you think of this MotoGP?
"Yesterday I made some laps with Team Yoshimura's GSX-R, to understand the layout and trajectories of the track. Then I rode the MotoGP and everything changed, it was amazing. It accelerates with power, you struggle to keep the front wheel down along the straight. The gearing is very fast, you insert gears at speeds I've never experienced before, you go from second to eighth so quickly. It's another world compared to the production bikes I'm used to. I thought it would at least be more similar to the specification we use for the Suzuka 8 Hours but while the electronics are fairly close, the rest is like something from another planet. But I have to admit that it's fairly smooth to ride, more so than I expected".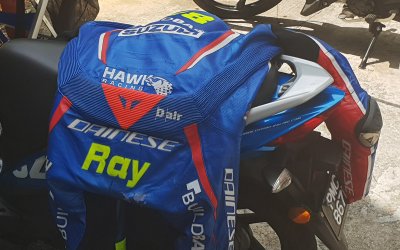 When was the test arranged?
"We spoke about it once last season and then a couple of months ago they asked me if I wanted to come and test at Sepang and I accepted of course. I couldn't miss this chance".
Did you ride with the same configuration as Guintoli and Tsuda?
"Yes, the bike was the same, but I couldn't use the MotoGP tyres, they don't have many and as they are testing next week to, they can't afford to waste too many. So I rode with production tyres, but this didn't matter. I was still impressed by every single aspect of the bike".
What are your plans for the 2019 season? Aside from the BSB, do have other things in the pipeline, perhaps linked to MotoGP?
"For now my focus is on BSB but we are talking about doing the Suzuka 8 Hours again this year. It's too soon to talk about MotoGP. In this paddock they are used to seeing riders move up from Moto3 and Moto2, I don't remember if anyone's ever moved to MotoGP directly from BSB. It's not impossible but it's very difficult of course".
Suzuki has no WorldSBK team, something that might have been a natural step in your career. Perhaps you could follow in the footsteps of Dixon, a fellow Brit who will race in Moto2 this year?
"For now I'm part of the Suzuki family and don't know my long-term career plans. Experience in Moto2 could be one route, also because there's no SBK team right now. I'd like to stay in the Suzuki orbit, but I'll also have to think about my career of course".