In signing with team Gresini and taking on the new "electric" challenge, Lorenzo Savadori returns to a paddock he frequented back in his 125 days, when the young and already very talented rider competed with the Aprilia for three consecutive seasons.
He then raced in the production-derived championship from 2011 to 2018, scoring a Superstock title with the Noale RSV4, a bike he also rode in his Superbike seasons with Iodaracing and Milwaukee.
The noiseless MotoE now serves to renew the 25-year old's motivation.
"I'm pleased to have reached an agreement with Fausto Gresini - says Savadori - because his team is very professional. It's great to return to a paddock I left in 2010, it's a nice feeling. The world championship is my next adventure and I'm curious and excited to get to work".
During initial testing at Jerez in November, Lorenzo rode the Energica for the first time.
"The MotoE is something brand-new, for me and my rivals. At Jerez, I had to share the Energica with my team-mate Matteo Ferrari and, from what I could tell from my track time, the Ego is totally different to a fuel-powered bike. It has many different technical and dynamic characteristics, I like the power delivery and it's fun to ride. But I did find it rather heavy, you feel the weight while riding. We've only carried out one test, in the next sessions in March we need to understand more, for now I know it needs to be ridden in a very different way to bikes I've raced before".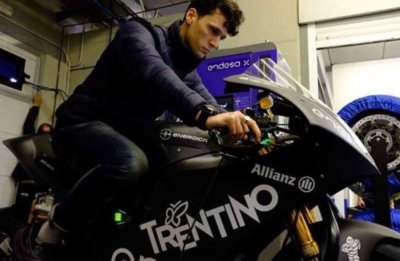 Do you think the rider can make the difference with the MotoE?
"I've only completed a few laps so far but I think it's hard for a rider to make the difference with the MotoE, but it's too early to say for sure. In March I'll have my definitive bike, with its dedicated setting and riding position. Among other things, we need to understand how to use the battery. We'll see".
Savadori will compete in the five scheduled championship rounds but will also have for other things, so he's still seeking a ride in the series he knows best.
"I've agreed with Gresini, we both know that I'll compete in the five MotoE races but, on my free weekends, I can, and would like to take part in WorldSBK. I'm looking for a valid bike for next year, with only 18 riders on the entry list I think there's room for me too. I've continued to grow as a rider, I'm young and can prove myself, as I did in Superstock. The 2019 format involves three races each weekend, it will be interesting to see how the public and the riders adapt to the new regulation".