Jorge Lorenzo has finally broken the silence in which he had entrenched himself since moving to Honda. And he's done so by speaking to BT Sport, in an interview that covers his time in Ducati as well as his future of course. The Majorcan will be up against Marc Marquez, on equal terms, but the challenge doesn't worry him, rather it spurs him on.
"I have a lot to learn from him, because he's been in Honda for many years, but I'm sure that he too can learn something from me - he explains - I am the only one to have won a title against Marquez, I don't see why I can't do that again. I will do my best, though it won't be easy".
Wearing official Honda colours is another boost for Jorge who, he confesses, came close to retiring. Before winning at Mugello, the results were slow to come and his shares plummeted.
"I was a little depressed, because I actually saw retirement as a possibility - he reveals -  I've always thought that it would be a releave to stop, but it was different once I came close to doing so. Being in the satellite Yamaha team would have been a good option, but not what I wanted. In sport, your worth comes down to your more recent results and so it was terrible at that point. I was working and training like never before, but the results weren't coming. I knew I was close to winning, but people didn't believe. I knew it, I knew what was missing but at that time the team probably didn't believe in me".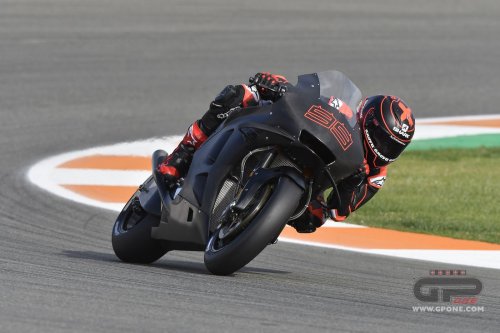 Then came the call from HRC and the world championship will continue to count Lorenzo among its ranks. For the Majorcan, it means starting over from scratch though.
"In the short term, changing teams is probably worse because you have to start over with a new bike. On the other hand, it gives me renewed motivation. It's like always writing with your right hand and then you have to use your left... now I can use both hands" he jokes.
An ability he gained in Ducati.
"Life is made up of challenges, you have to learn and improve. In Yamaha I had achieved my dream of becoming world champion and to get the motivation back, I decided to move to Ducati, but it was harder than I expected. The first time I tested the bike was a shock, I had to change my riding style and it wasn't easy to carry on believing in myself. I continued to work and was able to win".
Everything changed with the arrival of the famous tank, an ongoing saga last season.
"They talked at length about that tank, as if it was something magical, but it was just the last part of a long work process. I had found the bike jumpy, it wouldn't turn, Ducati started to make more frames, to improve delivery, and in 2017 I began to improve. But in 2018 the bike changed and the tank, lower, no longer supported me during braking. I told the engineers right away but they either didn't understand or didn't believe me, and it took a lot of time to get it changed. I was already fast, but with the final piece I was able to be more consistent ".
Share