A prophet is not without honour, except in his own house, or so they say, and this is true for Francesco Bagnaia in a way, the rider having left Chivasso for Spain, before heading for Tavullia and then, finally, returning home with the Moto2 world championship crown on his head. A crowd of people is there to welcome him back into town, "but when we came up with this idea, I was worried that I'd climb on the stage to find no-one there" smiles Pecco. The evening was a big success, the crowd transmitting its warmth to Francesco despite the wintry temperatures.
Are you starting to realise what it means to be world champion?
"I didn't take it in at first but I'm gradually beginning to do so. Since winning in Malaysia, I've had so much to do and, while it's great to be keeping busy, I now feel that I need a break. I need a holiday and will head somewhere hot".

On holiday, with MotoGP in the back of your mind…
"It's going to be an even tougher challenge, but I also know that where you're at the top, people begin to follow you more. I can't wait to get started".

How will you prepare?
"The MotoGP is more in every way and you cannot prepare for it, you have to experience it. Only by doing so can you understand what it is".

There is also greater pressure…
"The aim is to remove some of it, but there is so much media coverage. I know there's a loss less room for error".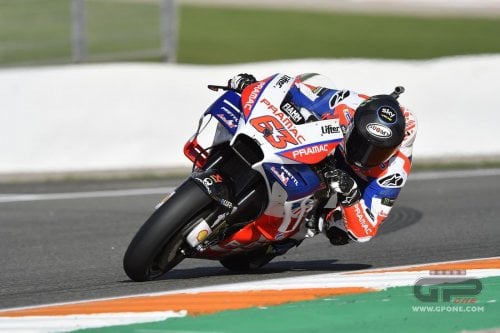 You've made a good start though, Dovizioso said that you're working in the right way…
"Andrea helped me during testing at Valencia and Jerez, when he saw me on track he signaled for me to follow him. I appreciate that, a rider of his level helping a rookie just highlights how great Dovi is. He cares about the project, the Ducati is like a child to him and he's looking for other riders who can help him develop it".

One of your main goals will be to try and beat him…
"My primary goal is to grow and learn, beating Dovi would mean running top three... it will be tough".

Is it too soon for you to consider a factory ride for 2020?
"Right now yes, I have other things to focus on for now. There is a lot more work to get done with respect to Moto2".

You have one of the best MotoGP crew chiefs beside you, how are you getting on with Gabarrini?
"Ducati gave me a great gift with Cristian and Tommaso (Pagano, the electronics engineer). We have struck up a great relationship and I am amazed by their humility in taking on this project. They didn't force anything on me, in fact we respect each others work methods".

In MotoGP you will be taking on a friend in the shape of Morbidelli and a master in the shape of Rossi…
"I am good friends with Franco and we respect each other, the same goes for Vale, who has always been the undisputed legend to me. To grow up with him as your idol and then have him as a rival is a strange sensation, one too big to explain".

Do you already view Valentino in a different way?
"I can't, Vale is Vale and always will be as far as I'm concerned (he laughs)".

And then you have Marquez, Lorenzo and so many others…
"They are all riders I watched as I was growing up, they impressed and excited me, it's strange to think they are now my rivals. I'm coming from Moto2 and will be on track with the strongest riders in the world, it's going to be cool".

Now that you've won a title and find yourself in MotoGP, is there anything you want to get off your chest?
"I'm not one to hold a grudge, if somebody didn't believe in me it's because you can't be liked by everyone. The first tough years in the world championship taught me a great deal, I want to thank team Aspar for having taught me and helped me to believe in myself again, and then team Sky, for helping me become a more serious rider"

Ducati wanted you in MotoGP already in 2018, why did you say no?
"I liked the idea, but for the first time in my career I had the chance to fight for a title and so I preferred to stay in Moto2. When I signed with Ducati, I hadn't even won a race in Moto2, people were putting pressure on me, but I was happy because the pressure was off. i felt calm and when I won the Qatar race it meant even more".

Is there any other gift you'd like to find under the tree this Christmas?
"They've already gifted me my Moto2 bike, if they could also give me the world championship livery it would be perfect" (he laughs).