Prior to the winter break, the Grand Prix Commission has convened in Madrid and, meeting over, published a lengthy regulation update. Several small changes come into effect, our summary of these can be found here below.
RIDERS CAN FINISH WITH AN 'UPSET' BIKE - Up until now, in order for a rider to qualify as a race finisher, he had to be in contact with his bike as he crossed the line. So pushing it over said line would count (something Dovizioso did in Argentina in 2016), even in cases where a rider was barely attached to his bike (like Ajo at Assen the year before). As of next year, bike and rider can cross the line separately, and whichever does so last will serve to establish the finish time.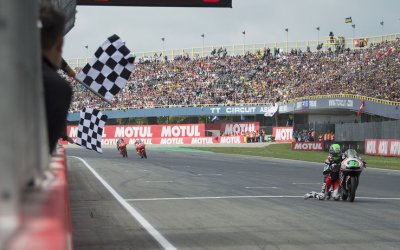 It's not clear how this amendment has come about, seeing as we can only remember one example, when Max Biaggi crashed right before the line in a wet race at Suzuka. In that case though, the GP was interrupted with the red flag, the result established according to the classification on the previous lap.
The Palio of Siena comes to mind though, with its agitated horses that remain in the race even if their rider is unseated. The situation is different here though, because the rule can only be useful if a crash occurs right before the line, the motorcycle race thus becoming a walking race. Perhaps the members of the GP Commission have got a little carried away.
MORE RAIN TYRES - As of next year, every MotoGP rider will have 13 rain tyres (6 fronts and 7 rears) per race, compared to 11 until now. In Moto2 and Moto3 there is no maximum number of rain tyres, but riders must have at least 4 sets available.
 
LOSS OF CONCESSIONS - In MotoGP, the loss of concessions is based on a points system (1 for 3rd place, 2 for 2nd and 3 for a win). When 6 points are achieved, concessions are lost. It is not only the results of the season in progress that count, as points are accumulated year after year. Now, so that a manufacturer does not lose its concessions due to points scored over a period of several years, points will expire two years to the day after they were scored.
Another detail: when a manufacturer loses concessions, test riders right to ride at every circuit on the calendar is lost, but only from the following year.
VARIOUS - In case of a penalty to be applied during a race, the penalty message will be displayed on the dash for a maximum of 3 laps, rather than 5.
A bike engine can never be switched on in the garage, but only on pitlane.
In the case of an interrupted race, a rider can line up for the restart if he returns to the garage with his bike.  Marshals can help him to restart the bike and he can use the track or service roads to reach the garage.
Share