Chaz Davies was present at Jerez for the MotoGP tests. The Superbikes was out earlier in the week and the presentation of the Panigale V4R, taking place at the same Andalusian track, called for the presence of the Ducati factory SBK rider. We took the opportunity to meet with him and talk about the new Ducati flagship in its SBK version and his sensations following the test.
"This was my first real test with the V4, because conditions at Aragon were not ideal. We're talking about a new era for Ducati, nothing about the bike is similar to the Panigale V2. It's much more similar to a MotoGP".
You're getting to grips with the bike. What do you think the V4 can achieve in 2019?
"The bike is really interesting and I think it has enormous potential. After this two-day test I feel even more optimistic, I felt much more comfortable riding it. I feel I'm at the start of a long story, so the important thing will be to put the best of what we've tested together and continue to have fun and work hard. I'm pleased with our conditions".
You were undoubtedly the rider best able to interpret the Panigale V2. Do you think that the move to the V4 requires a drastic change in terms of your riding style?
"I think this bike can be ridden like the V2, but we've seen that riding in a different way can bring other advantages. So I think my style needs to change a little. I think it needs a sort of combination, because as I've said it can be ridden like the previous Panigale V2 but the V4 offers greater sensations on corner entry and through the turn. With these characteristics, I think it's only natural to maintain slightly higher corner speed, because it offers me a good feeling at the front".
So it's difficult to compare the two bikes. 
"They are very different, nothing about the V4 is similar to the V2. It's all new, and looks to have great potential".
One of the positive surprises was Bautista's speed. Did you expect him to be so fast right away?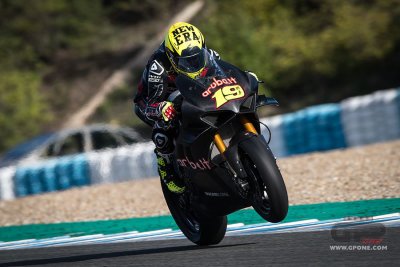 "Honestly, I thought Bautista could be very fast in SBK right from day one. At least as fast as me, even faster in fact. For several reasons, I believe this bike is more similar to the MotoGP. I don't know who is more talented, him or me, but the bike has a lot of technology coming from MotoGP and the engine structure comes from MotoGP. So various things are very familiar to him".
It almost looks as if it's easier for Bautista to move to SBK than it is for you to go from the V2 to V4.
"I'm not saying that it was easier for him to jump from the Desmosedici to this bike and be quick than for me to go from the V2 to the V4, but the learning process is different. He needs to understand the new tyres, while I need to understand how the new engine and frame work. In one sense, we're at the same point, as although we're talking about a SBK, many elements come from MotoGP, all things that I have to learn to manage. He, on the other hand, needs to get a handle on tyre behaviour, as these have very different characteristics. Alvaro did a great job in MotoGP this season, we all saw his potential at Phillip Island, when he almost reached the podium battling with the front group. He is undoubtedly a top rider and so has not surprised me here".
It looks as if the 2019 WorldSBK could turn out to be more interesting than this year's edition.
"I hope so, I hope it's more hard-fought. We need it, everyone's biggest problem in SBK is Johnny on his Kawasaki; already having a great base, he will always be more or less the same but increasingly fast. Everyone is developing their bike, Yamaha is growing well. We all still have a lot of work to do, but we remain focused on our goals. We need to improve the Panigale V4 right the way through to the last race of the season. This is my aim, I can't think too much about what others are doing. I can feel the bike's potential and so it's important to take that and exploit it at every track. I'm feeling optimistic about 2019".
Share