Marc Marquez rounded out the Jerez test with the third fastest time in the combined two-day standings. A test during which the Spaniard didn't ever really push to the max, also in order to avoid any accidents, which would have been ill advised considering the precarious condition of his shoulder. 
Honda brought many new elements to Jerez, including a tank that we saw on Lorenzo's bike and that looks very similar to that used by the Spaniard in Ducati, and an aerodynamics package at the front that quite clearly recalls the latest evolution used in races on the GP18. A similarity that Marquez himself does not deny.
"The new aerodynamics? I tested them on Wednesday, Jorge on Thursday. It's different, like that of the Ducati in some ways, it's true. But it's different to what we had before, and now we need to work on the data to understand. It's not a drastic night to day change, so it's a matter of fine tuning really".
With Crutchlow out of action and Lorenzo still getting to grips with his new bike, Marc was well aware that he needed not to crash, something that would hold up the development work, which falls fully on his shoulders right now. The first step for Marquez over the winter is surgery, to reconstruct his shoulder.
"This was the final commitment in what has been a very long season. My plan now is to have surgery next week and then spend the winter recovering. The operation takes a fairly long time to recover from, so I may not be 100% at the Sepang test. I'll need to work on my fitness through February and March so as to be ready for the start of the season".
Are you pleased with the work completed here at Jerez?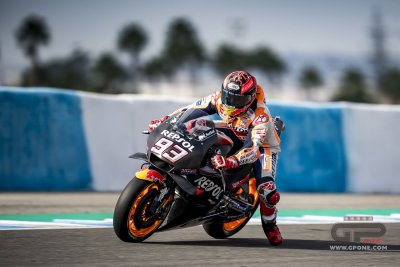 "Yes, I was already sorted during my first exit this morning and felt very good on the bike, particularly physically-speaking. I worked quite well throughout the day, in all directions. We worked on the engine, the electronics and for Michelin too. We put the information we collected together and in the afternoon put in the new soft rear tyre, which I think works better than the last one. I was therefore able to set a good time, but that's not really important here. The important thing was to find the right direction for development and we've done that". 
Across which areas did you work? Did you focus on a particular aspect?
"We worked on the engine of course, an area where we can still improve, but we also need to understand how to improve the frame, because I am still losing too much during certain phases of cornering. We need to improve there, because that was one of the main issues during 2018".
Are you pleased with the engine and the resulting steps forward?
"I think that we're gradually getting close to the optimum level. When you start with a new engine, it's only normal to have to work a lot, every day we've taken a small step. Now we need to see how the engineers work back at base, we've collected a lot of information for them here".
Honda took a big step forward with the bike between 2017 and 2018. Do you think this will be repeated also inn 2019?
"Our aim to take a step forward with the 2019 bike, but fortunately our bike already works well, so we don't need to make any big changes. It's better to take things slowly, one step at a time, that's what we're doing. In this way we cannot lose our way, something we did in 2015".
Your new team-mate was also quick today. How do you think Jorge's doing on the Honda?
"In reality, a flying lap is one thing, pace is another. Anyone can be fast after two days of testing over one single lap. But I feel very strong in terms of pace. Jorge is working in the right way and this is very important for Honda too, Nakagami was also very fast today".
Have you already talked to Jorge, perhaps sharing comments and ideas regarding development?
"I haven't spoken with him in the garage yet, but we saw each other at breakfast in the hotel yesterday morning. We spoke for a couple of minutes, but he told me that he's getting to understand the Honda, a unique bike. Our ideas about the bike are fairly similar".
Honda ends this test in the best possible way. Do you think much will change in terms of performance levels at the next Sepang test?
"I think we're in a good place right now. The test season is very long, and now we've collected all the information we need to improve. It remains to be seen how much Yamaha, Suzuki, Ducati and the others can improve. Everyone will work hard over the next two months and everyone will take steps forward. Ducati is working very well. Yamaha has a few problems in terms of pace, but they are still very fast over the flying lap. We need to wait and see in Sepang".
Share