During the season, Lorenzo's experimentation with Ducati tanks might have come in for some criticism but Jorge was proved right when the changes made to the Desmosedici allowed him to start winning races.
Now on board the Honda, he is not wasting any time and, after his initial experience at Valencia, the Majorcan's RC213V bikes already have a different tank and seat to those used by Marquez.
Just as he did with the red bike, Lorenzo has asked for greater leg support during the braking phase. The area of the tank that comes into contact with the thighs is covered with a material that offers better grip and, as you can see in the photo, some flaring offers greater support. The seat is also wider than the one we are used to seeing on Honda bikes.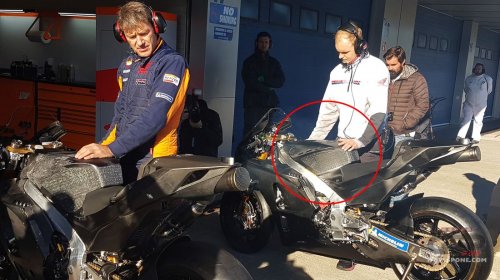 They have worked quickly in Tokyo to satisfy Jorge's requests, the two bikes in fact featuring different engines. The second does not only have horizontal air vents (vertical on Marquez's Honda) but also a different profile.
There is also another interesting detail on the world champion's bike. On the 2019 prototype, it looks as if the tank has been raised, which hints at a possible repositioning of the engine.