The electric revolution has begun at Jerez, the first three days of official testing with the Energica Ego bikes now complete. There was a lot of interest surrounding the MotoE debut and although these first hours are not enough to clear up all the doubts, the riders have had chance to get an initial idea. Starting with Alex De Angelis, who will wear team Pramac colours next season alongside team-mate Hook. Unfortunately for these first tests, 18 riders had just 12 bikes available, meaning that two-rider teams were forced to alternate their riders on track.
"It did limit us - observes Alex - because some riders were able to exploit every session, while I only completed a few kilometres. The first session was wet, then the track was damp for the second and I had a small technical issue during the third".
What are your initial impressions of the Energica?
"I'm pleasantly surprised. I was a little worried about the bike's weight (260 Kg), but didn't really notice it. Perhaps because Michelin have also provided the right tyres, with a carcass that offers support".
And the motor?
"Exiting the slow hairpins it really pushes and I was even sliding on the damp asphalt. It doesn't rip your arm off along the straight off course, but the speed is interesting. But I think the most interesting phase is braking".
Why?
"You don't come to the hard braking point at crazy speed, but the weight pushes there and so braking is long. I think that we'll see some good racing, and some spectacular passing".
Is there anything that doesn't convince you?
"I'm a little hesitant considering the first corner of a race, because these bikes are heavy and it might be an issue when there's a crash. Without a clutch, everyone will get away well and, being a sprint race, the first braking point will be key. A crash in the middle of a compact group might be problematic".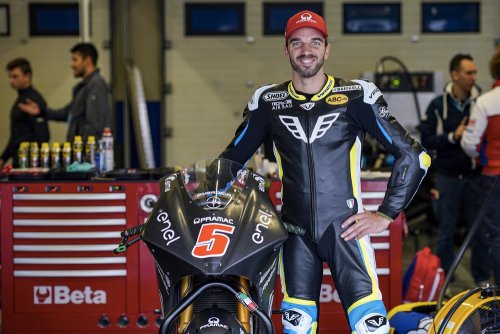 Is the Energica a fun bike for a rider?
"I need more time to take it to the limit, but as I began to push I was having fun. Like I've said, the weight doesn't appear to be a problem or a limitation, but Jerez is a technical track with no classic chicanes where you have to lift the bike quickly to change direction. Also, in the first dry session, lap times were around 1'50" which is good even for non-electric bikes".
How is it to ride?
"I've only completed a few kilometres so far so it's hard to make any accurate comparisons, but I'd say it's a category all of its own. Through the hairpins you can edge the corner, a little like in MotoGP, while through the fast turns you have to let the bike run because you cannot count on great drive when exiting".
What's it like to ride with gears?
"The first lap remains impressed on your mind, because having exited the first turn, you prepare for something that you don't actually have to do. So you make the most of the straight while thinking about the next braking point. At Jerez, the straights are short, but I think the sensation will be even more strange in Austria for example".
There's not even any noise…
"Actually there is a whistling that increases as you pick up speed, but when you're riding slowly you hear nothing, as if the bike was switched off. The problem is when you pass a slower rider, because you don't know if he's heard you coming. While riding on a damp track, I was worried the rider ahead of me might chance line to avoid a wet patch, so I chanced a pass. Unfortunately the same did not happen to me so I don't know if you actually hear another rider coming up on you".
What are you working on in the garage?
"Mainly to adjust suspension, then there are two or three pre-set maps for the engine brake and delivery. There's still a lot to do, but it'll take time to get to know the bike and take it to the limit. I'm happy for now, I've had fun and know I've made the right decision deciding to race in MotoE".