It was late 2006 when Honda presented the new Honda CBR 1000 RR.
The various new elements included a new electronically-controlled hydraulic steering damper.
That was the first time such a solution was adopted on a production bike. The system, known as HESD, was auto-adaptive, so that it adapted t6o the rider's speed and type of road to remedy the limits of traditional steering dampers, which make for stiff steering at low speeds. With the HESD Honda stated it had found the way to have an agile bike at low speed and a stable bike at high speeds.
In reality, this solution was later abandoned in racing, but from what we've seen at Valencia during testing it may reappear on Marc Marquez's Honda, the bike featuring a rod connected to the steering plate.
A solution that makes us think that the fake tank may be concealing a HESD type of damper, albeit updated.
Marquez has often said that his bike is very 'nervous'. A more advanced version of a simple hydraulic shock may help to remedy this.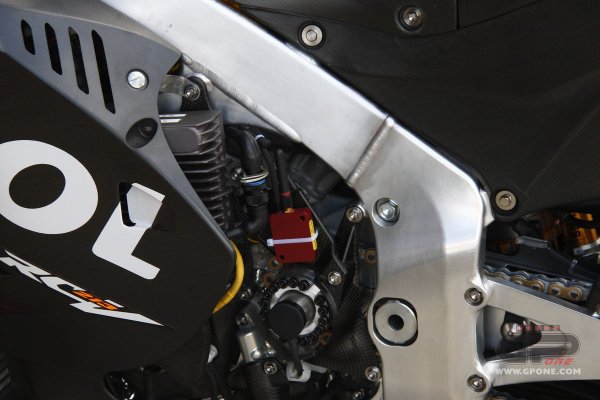 To the left of the fairing, his prototype also features a heavily winged component, to improve cooling... electronics heat up after all…