Monday at Valencia means limbo between past and future, the bridge between two years. The mechanics are hard at work in the garages preparing for tomorrow's test, while minds look back over the recent season. Gigi Dall'Igna sits down with us to look back over 2018 and draw some conclusions.
"It's been a very satisfying year - he begins - particularly from a technical front of view, despite us not having been able fight for the title until the end of the year like in 2017. In addition, we have finished with a great win, though we could have done with yesterday's result one year ago", he jokes, recalling the title lost at Valencia.
Why are you so satisfied?
"Because we have improved our bike and have proved it by being frontrunners at tracks where we've struggled in the past, like the Sachsenring or Phillip Island. In addition, we've been able to win with both riders, despite them having different riding style, and that's very important".
But…
"But we can't be fully satisfied, we have to make more effort because our aim is not to finish second. Ducati deserves to win the title, not just to fight for it".
The GP19 is the weapon with which to do so…
"We plan to make more steps over the winter, but the main goal is not to lose the way. The new Desmosedici will be similar to the current one, but from tomorrow we'll start to introduce updates, we have important new elements in the pipeline, both for these tests and those at Jerez".
Many say that the Desmosedici is the best bike, do you agree?
"The question has no real sense and I wouldn't even have an answer, because the only thing that counts is to win the title. I'm sure that our bike represents a good compromise in all the riding phases. This year we've been able to reduce the disadvantage mid-turn without losing anything in other areas, but we still need a little more. This is where we will focus in coming months".
Is the GP19 at a more advanced stage of development compared to the GP18 this time last year?
"Last year was complicated, because the bike we wanted to use during the Valencia test didn't give us any encouraging signs when Pirro tested it. For the reason, we had to drastically alter the project and only brought the GP18 to the track at Sepang. This year I feel more positive, considering Michele's comments about the new bike. But these remain impressions, until tomorrow that is".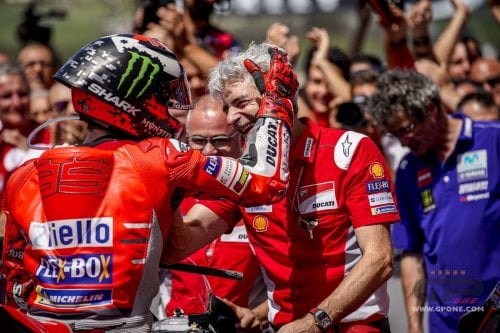 Yesterday you said goodbye to Lorenzo, how would you sum up the last two years with him?
"Firstly I want to thank him for his work. He's proved nothing but willing, it's not easy to find yourself in difficulty and then be able to turn the situation around, only great champions can do so. I think overall it's been positive, despite us not having achieved what we hoped to. We were able to win races and excite our fans, but not fight for the title."
What will you miss about Jorge?
"Next year we'll have two riders with a similar style and that's never totally positive for a technicians. Different style can highlight different things".
The future lies with Petrucci…
"Danilo has grown with us over the year, but he still needs to take another step forward. We need to put him in the right situation to be able to do that".
Then you have Bagnaia with team Pramac…
"He's joining our family as a world champion. I'd like to underline that Ducati, unlike others, view a rider's growth in a more structured way. In fact we rotate technicians between the factory team and the Pramac team, so Bagnaia will have Lorenzo's crew chief and electronics engineer (Cristian Gabarrini and Tommaso Pagano)".
The focus will be on Dovizioso of course.
"He represents the continuity, he is Ducati's greatest asset right now".
He'll be under great pressure next year, could that be a problem?
"Dovizioso has already dealt with pressure in the past, last year for example. I think he'll have a clearer mind next year, because he already knows that Ducati will do everything to help him achieve the result we want".
Dovizioso has said that Honda and Marquez would probably have been unbeatable even without his mistakes, what do you think?
"That they have been decidedly stronger than last year, we've made progress but so have they. I consider the Honda to be a very well balanced bike in Marquez's hands".
There will be two less Ducatis on the grid in 2019, what consequences will that have?
"it will all be simpler. Up until now, we've had three different versions of the Desmosedici on track, while next year we'll have two. It will be easier, I like to see the glass half full".
There has been talk of introducing a minimum weight calculated by combining the weight of the rider and bike, would you be in agreement?
"I think it's time to reconsider the regulation, calculating the minimum weight in this way would be more correct. With the current tyres, sometimes weight is a problem the rider has to contend with".
Share