In winning the Supersport 300 world title, Ana Carrasco's life has changed, just as the motorcycling landscape has changed: now the guys know that they also have the girls to deal with.
Photos, autographs, celebrations and interviews: the Spaniard is one of the most in-demand riders, the EICMA show in Milan proving to be no exception, with the champion mobbed by both a male and female crowd: "winning the championship is the end of a journey and the realisation of a dream, this is why I'm so happy - explains Ana - 2018 was a really competitive championship, many of were fighting for the race wins and it was a real battle each week. To put my name above that of many guys is really satisfying".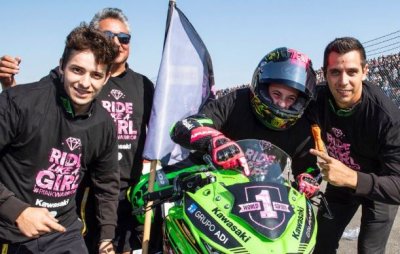 Carrasco is quick to address one particular point. Several colleagues have stated that the Spaniard won because of an advantage provided by the regulation, that favours her Kawasaki Ninja 400. The DS Junior team rider has this to day: "even if in certain moments of the championship, the rules helped those riding Ninjas, I can say that there were at last 14 Kawasakis on track, and I beat them all, proving to be not only the best of that brand but also the overall champion. This result came thanks to the work of my team, who I thank from the bottom of my heart".
Now you're in demand.
"Yes, I'm receiving many offers. My aim is to stay in Supersport 300 and try to win again, though I've not yet made my final decision. I'd like to stay with Kawasaki. I have offers on the table for other categories like the 600, where I would evolve in terms of my riding and overall experience. The idea of racing with bigger, more powerful and sophisticated bikes excites me, but I know that things need to be done step by step and in the best way possible".
Also on board the green Akashi bike, a certain Johnny Rea has stacked up wins and titles in the Superbike class. Ana, in considering her future, comments: "I have to congratulate Johnny, he is a real champion and deserves it all, as he's often unbeatable. Do I see myself in Superbike in a few years? Sure, I'll race there after Rea retires (she laughs)".