Marc Marquez is overcome as he speaks to journalists at Motegi following his seventh title win. Pleased and excited about this fantastic results, he now ties with legend Mick Doohan for their number of top class titles. Both also secured all said titles Honda.
Taking the title at Motegi is a dream for Honda management of course, and Marc joked when asked what the secret of winning at the Japanese track might be, seeing as this is the third time he's done so.
"I won for the third time here because I get a bigger prize! I'm joking of course. I don't know why, perhaps the Honda guys were all  praying for me. It's particularly great for them that I've won here. Today, after warm-up, the President of Honda came to me and said 'you have to do it' and I said 'ok!' (he laughs). Then Emilio Alzamora and Alberto Puig came and told me that it's just a race and that I shouldn't overthink it. I know it's very important for them, but I work better under pressure, I like it. Sometimes I don't feel pressure but when I do I like it because it focuses me".
What was the key to this win do you think? 
"I had great pace during practice, confirming it in warm-up on very used tyres. I spoke with Emilio and Santi regarding strategy and we tried to understand my potential. starting from sixth, I thought I'd need to be  perfect in the few laps and luckily, by the end of lap one, I was behind Dovi, and then I just focused on him. I watched where he was stronger, then made a first attack nine laps from the end, but I made a small mistake and he got back past me and started to push. I was able to stick with him and wanted to use the same strategy as in Thailand, I didn't want to attack on the last lap. I knew he could beat me on the last lap anyway as he had better acceleration".
What did you think when you saw he'd crashed?
"I was pleased of course, because I knew it meant I was champion. But then I was disappointed because he deserved to be on the podium with me. He's had an incredible season. Dovizioso is very important for me. Without rivals, there's no championship, it is they who push us to improve and stay motivated. People want a show and we give it to them".
What motivated you to go on the attack in this race, when you could have played it more cautiously considering your advantage?
"after Aragon we started to realise that I could achieve this result, but I don't like to think like that and I always seek extra motivation. So I set myself the challenge of winning at the first opportunity, here at Motegi. But then we didn't make a great start to the weekend. Qualifying didn't go very well but after warm-up I realised we could do it. I was very focused in the first laps and, as Crutchlow said, Dovi was riding a little strangely, pushing on some laps, slower on others. I saw I had a little more and gave it my all in the final four laps".
What was Dovi's tactic do you think?
"I don't know, perhaps he was trying to save the tyres or perhaps it was just a strategy. I kept responding every time he pushed, I didn't want to let him get away. I have to say it was strange on his part, as tyre consumption isn't really an issue here. Perhaps it was simply a strategy of his".
This title is very different to that of 2017, when you had a everything to play for at Valencia?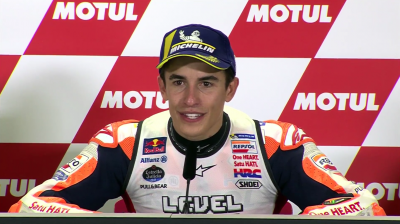 "Last season was more stressful, there was more pressure. But it was still an amazing sensation when I won and started celebrating here, I lost control as I always do! I felt my shoulder dislocate while celebrating on track, and my brother Alex put in back in. It's not the first time that's happened and was perhaps the most painful moment of my season. In December I'll have to go and see Doctor Mir to ensure it doesn't get worse".
How were you able to be so consistent this season, with respect to 2017?
"When I look at the standings and I see I've scored 25 points, then 20, then 25 again, I see we've worked very well on our race consistency. It's something I learned from Dovi last season when he was managing the situation perfectly. We've done a great job with Honda, HRC, the whole team. Sometimes I did that little extra, other times the bike gave me that extra something. This allowed us to be consistent. I only had issues at Mugello, where I made my onel serious mistake. But aside from that, I was able to be consistent and that was key. i could have managed things all the way to the last race, but that's not my style. I like to have fun on the bike, in the races, and that means trying to win".
Already in Qatar it looked as if Dovi might be your main rival. When did things start to move in the right direction for you do you think?
"I saw from race one that Ducati would be up there. The key points were Jerez and Le Mans, when I won both races while Dovi crashed and Lorenzo scored only a few points. From then on I was fast at every track, finishing second or third in the toughest races. .I dont know whether I feel more mature this year, but we definitely started the season with a more competitive bike. I didn't have great sensations at the start of 2017, I crashed often, while this year we immediately had great pace at every track. Without the bike you cannot win, without the team you cannot win. I'm here talking to you after every race, but many people work with me and for me. As I've said, the bike sometimes helps me, on other occasions I help the bike.
You are moving in on Rossi and Agostini's records. Do you think you'll be able to beat their career stats? 
"As I've said before, I don't race to set records, because every season is different. I have a two-year contract with Honda and I will fight for the title. This is my approach, all of the top riders compete and work to try to win the title. If you finish second, you've done well but you've not achieved your goal. So as long as I'm here, I will aim for that. Every year I have the right pressure and motivation to fight, and I hope that continues for the rest of my career. I can now celebrate but as of January 1st we'll be focused on the new season".
Who are the greatest riders of all time in your opinion
"The top three all time greats? I couldn't say. The stats say Agostini, Nieto and Rossi"
Do you think you still have room for improvement?
"I'm at level 7 now, what's the limit? I don't want to set one. All athletes strive to improve, the more you win, the more yo want to win - that's the great thing about sport. I will continue with this mentality that has seen me win so much already, I will continue to try".
When running your first ever race, could you have ever imagined you'd be here celebrating title number seven?
"I can't remember. No, also because I finished last in that race! No-one can imagine such a thing. I'm living a dream. No-one can imagine this, even if you've won in other categories before. The best riders in the world are here, we have 19 races a year and it's  always tough to fight at this level all season long".
You're world champion, and you still have a long road ahead of you in terms of your career. What are you missing in life right now?

"What am I missing? A girlfriend! I'm joking, I'm not missing anything, I even have a dog now!"