Andrea Dovizioso and his battles with Marquez. Andrea Dovizioso and his difficult relationship with Lorenzo. Andrea Dovizioso and the ghost of Stoner. Being compared to big MotoGP names is nothing new for the Ducati rider, a situation that is likely to continue in the future.
Dovi agreed to a long interview with Corriere dello Sport and spoke at length about his rivals, past and present. Honest and analytical, the Italian talked about his relationship with other champions. Here is a thoughtful Dovizioso.
LORENZO? A CHAMPION ALWAYS CREATES PROBLEMS - "When you have a champion alongside you, like Jorge, you'll always have problems. There are advantages if you work calmly because you have a reference from which to learn. The negative is that you can lose points when your main rival is your team-mate. A team with two champions diffuses its potential".
Jorge has also helped Dovi in Ducati though.
"His first contribution was to confirm the bike's limits. This was fundamental in terms of my credibility with the engineers. After having Crutchlow on the team, and then Iannone, there's always doubt when a rider complains, if he's not a world champion. Then Jorge came along and said the same things and the doubt vanished. But up until Mugello, when Lorenzo started to be fast, we didn't see any difference. At that point I realised Jorge was capable of being fast, but in a different way to me. I saw that there was not just one way of being fast with the Ducati. This is interesting I told myself. So, this is the advantage of having another champion on the team, you don't necessarily have to copy his style, but studying him will help you".
Albeit with some differences, the relationship with the Majorcan resembles that with Iannone.
"Neither of them has done me good, but Iannone and family have a way of approaching what happens and it is... not in good faith. While I'm sure that Jorge, in certain situations, believes that he's right, and so behaves accordingly. There's a big difference".
I WANT TO FIGHT MARQUEZ ON THE DUCATI - "I came close (to returning to Honda). I didn't accept because it was only right to continue with this project. We have unfinished business, and I hope to have confirmation next year. Not that it would have been wrong to go to Honda, but I want to fight Marc on the Ducati".
Dovizioso recognises his rival's merits this year.
"I don't like saying that we've lost, I prefer to say that Marquez has won. Since losing the title in 2015, Marc has changed his approach: before it was simply 'either I win or I crash'. Today he still takes risks, he often crashes, but he makes less mistakes in the race. He has learned that".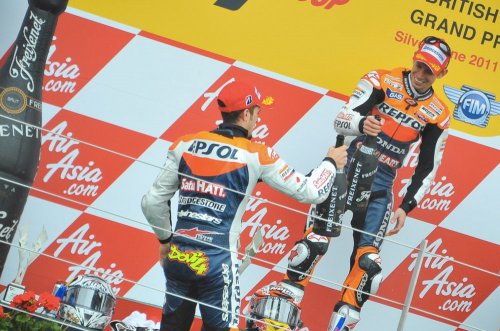 STONER WAS IMMENSE  - Andrea raced with him in Honda in 2011: "Casey? Immense. When things are going well, he makes them go even better. It was a very difficult year for me. And the more you are objective, the more you compare and the worse it becomes. And I am extremely objective and realistic. How do you over this? By continuing to work. The situation can be approached positively or negatively. Others would have stopped in such a situation, while I was able to improve. You have to accept that there will be negative years, but not winning back then and winning now is a positive, it confirms that I have grown and am a lot more competitive at 32 than I was at 25".
You were also up against Pedrosa back there.
"Dani Pedrosa also gave me a hard time. He was always very strong, when he was in shape. I learned a lot from him, he has a strange style but it works. He pulls the bike straight back up and accelerates very early. I would study him, but he was better at those things than me".
VALENTINO NEVER DIES - In Andrea's opinion, Rossi has a good chance of winning a 10th title: "I want to say yes, because Rossi has proved that, racing-wise, he never dies".