It was a festive evening in Las Vegas. At Mandalay Bay Resorts & Casino, the riders and winners of the MotoAmerica categories were honored during a celebration that involved sponsors, mechanics, racing staff and journalists.
Cameron Beaubier was crowned king of the Superbike class, JD Beach celebrated the Supersport title and Alex Dumas celebrated the Liqui Moly Cup. Andrew Lee and Chris Parrish received the honors for their respective undertakings in Stock 1000 and the Twins Cup.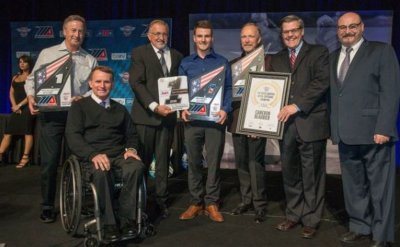 Mathew Scholtz was named Motul Superbike Rookie of the Year, Yamaha Yamaha won the first edition of the Wells Fargo Manufacturers Cup and Josh Herrin took home the first ever MotoAmerica Social Media Cup. In short: awards and honors for all in Nevada.
"Armed" with Dunlop electric guitars, the winners entertained those in attendance with music, closing out a successful season on the track during which the championship continued to grow even more. Wayne Rainey, MotoAmerica President, was very happy after all the hard work and dedication: "We are truly like family - the three-time 500 class world champion said - I'm really, really proud of what we did this year. We were all on the back foot and we kept fighting and that's what it's all about. Toni (Elias) came in 2016 and he definitely raised the bar in the last year. I'm really happy that we were able to match his season and give him something to fight with. Big thanks to everyone in my corner. I'm really going to enjoy this one."
Share