A winged beauty. The new Panigale V4, the bike with a Desmosedici Stradale engine that grabbed fans' attention last year, has enjoyed immediate success on the markets. The sales figures for the supersport bike speak for themselves: the Borgo Panigale model has thrashed the competition in this segment, with 804 units sold by September (V4/V4S).  A significant number for a race replica on today's market, and it looks like the figure might rise to 1000 by the end of the year. The "Panigalona" was missing just one thing though, as Ducati history dictates, namely the possibility to compete in production-derived championships (with the exception of Open championships where it is already present with the 1100, in the National Trophy in Italy) .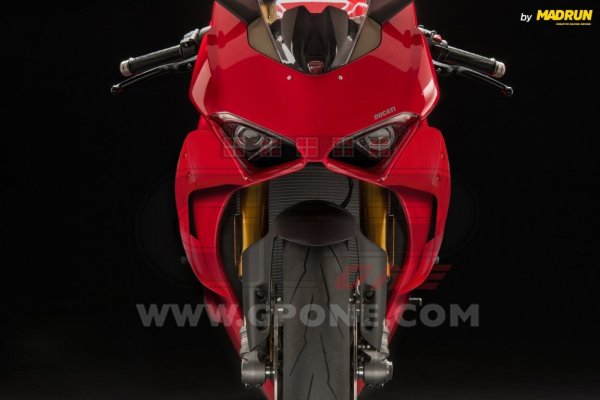 But a second version with 1000 engine was already announced last year, in line with homologation requirements for this type of  championship. The Panigale V4 1000 R thus prepares to make its debut at EICMA, the traditional World Premiére the stage on which to admire its shape.
Yes, its shape. We know that the new V4 R will adopt an aerodynamic configuration similar to that of its 1100 sister, but with one brand-new element for a production Ducati sports bike: aerodynamic 'winglets'. 
Two appendages that protrude from the sides of the fairing and that might mirror (this is only  a hypothesis, as shown in our rendering) the design of those already seen on Andrea Dovizioso and Jorge Lorenzo's Desmosedici GP bikes. A type of aerodynamic package that could be adapted depending on riding function, with the possibility to remove the winglets if the track or riding style so requires. Just like the world championship riders do (!!).

In perfect harmony with the spirit of a manufacturer that focuses on racing for the technical development that results from it, as well as the significant return in terms of image. We do not yet know much about the technical details, except for the fact that the new V4 R will of course adopt the same frame and engine layout as the 1100. As for horsepower, we can only guess, and in doing so we would say that values will be in line with those declared for the 1100 (214 HP), but in this case we should expect different power delivery (due to the smaller engine). We will just have to wait until early November, when the bike will be presented during the World Premiére in Milan. Not long to go...