In a motorcycle setting that is predominantly male, and despite there being a number of female staff members working as managers, telemetrists and mechanics, as well as team coordinators and press officers, no woman had ever won a championship title until now.
In winning the Supersport 300 world title, Ana Carrasco has changed history and perhaps, as of today, any girl lining up on the starting line in a championship, will be viewed different, with the awareness that the Spaniard may be the first but probably won't be the last woman to score such important results.
In a strange coincidence, Kiara Fontanesi has also won on this same day, securing her sixth consecutive world MX title.
The difference between Ana and Kiara is not the specialism - speed or cross - or even their riding style or bike (the Spaniard on a Kawasaki and the Italian on a Yamaha). What sets Carrasco apart from Fontanesi is that Kiara is beating her female rivals, while Carrasco has beaten male adversaries, in a series open to both sexes. Little interesting in guys for now, Ana prefers to beat them on track rather than date them. And here too she differs from the Italian, who has spoken publicly about boyfriends in the past.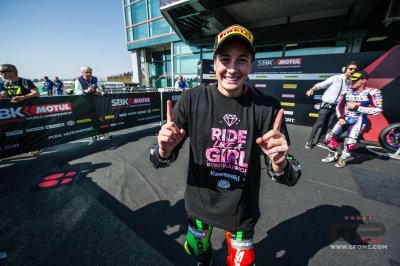 Ana's career really got started in Moto3, after a childhood spent riding mini bikes. Having worked her way through various categories, the young rider from Murcia debuted in the CEV, scoring points and proving that she was not just there by chance.
She made her world championship debut in 2013: under the Losail lights, Ana finished twentieth, struggling at first against rivals used to the artificial lighting and fast pace of the world stage.
Her first full championship was not a memorable, but Carrasco finished twenty-first that year having scored nine points.
The following seasons proved even tougher. In the 2014-15 seasons, Ana failed to score any significant result, zero points across two seasons.
At the end of 2016, Dorna decided to launch the Supersport 300 category, which proved successful. More than 40 riders on the start line, coming from all over, new names, and many manufacturers involved with kits prepared for the competition.
In this balance and apparently meritocratic climate, Ana really found her feet.
She scored a first, historic win with her Kawasaki at Portimao, the bike featuring pink details just like her helmet, gloves and leathers.
Having started out as one of the favourites this season, with David Salom's team, Ana did it again at Imola and Donington, really getting to grips with the series and running with it all the way to the thrilling Magny-Cours finale where, engines off and tears in her eyes, she dedicated her win to a man no longer with us: "this world title is for my friend Luis Salom".
In France, Carrasco was lucky, Deroue's technical stop and Perez's defeat on the final lap definitely worked in her favour when it came to the final tally, but then how many riders in her place would have kept their nerve? Clinging on to her place in the middle of the group, Ana had to push and shove and avoid crashing in order to secure her title. A test of strength, this "girl power", which began with Kiara Fontanesi and continues with Carrasco, may be just the start of a series of successful women in the midst of a male field.