Another lethal win for Jonathan Rea, who came to France with the singular goal of securing the championship title, which he has now achieved for the fourth consecutive time.
Having dominated his umpteenth race, the Northern Irishman powered his factory Kawasaki to the top step of the rostrum for the thirteenth time this season, having now reached a tally of 130 podiums in Superbike, equaling Australian Troy Corser's record.
Securing his fourth world title, the number 1 equals Carl Fogarty's score, but the Irishman has clocked up 67 race wins to the Englishman's 59. Rea is therefore the most successful Superbike rider, at least numerically speaking: "the feeling is simple incredible - stated Johnny, photographed together with his three alter ego who celebrated his success - if I think about where I began, in MX racing in Northern Ireland, and then road racing, all the way to the world championship, I struggle to believe it."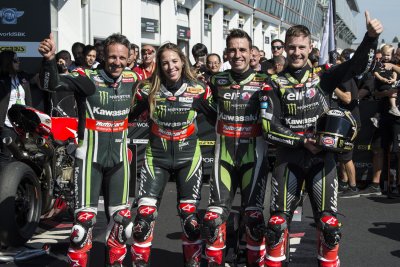 A rider so "used" to winning was still overcome with emotion: "it's like riding a positive and winning wave with the Kawasaki team. Our ZX10-RR is perfect, the people I work with are extraordinary. I'd already won three consecutive titles, I know how it felt in these cases but, looking back, I could never have imagined or believed I could win four. I loved seeing my dad lifting my trophy on the podium, he's always been there for me, this is a truly fantastic moment":
Tom Sykes' morale is not exactly at the same level of the champion, having closed the race second, putting injury and surgeries behind him.
Following a sensational Superpole - he is truly the master of the flying lap, the Brit initially went on the attack in the race, before deciding to settle for second place: "the front locked a couple of time, so I preferred to slow down. I'm a little disappointed, today wasn't a bad day but we suffered during the race. Today is Rea's day, he's had four fantastic years, he's worked well, I congratulate him and his team. I'm motivated ahead of tomorrow's race, which I will try to win".
Share