With just enough time to celebrate and take photographs of the 2018 champs (in order: Andrew Lee in Stock 1000, JD Beach in Supersport, Cameron Beaubier for Superbike, Alex Dumas for the Liqui Moly Cup and Chris Parrish in Twin) it was already time to restart the engines for a few of the American protagonists.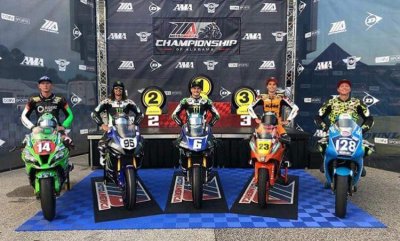 Looking forward to 2019, tire manufacturer Dunlop, sole supplier in MotoAmerica for all the categories, brought quite a few new solutions to the track for the test organized at Barber for various Superbike and Supersport riders.
With his Yoshimura Suzuki, Toni Elias proved to be fastest, turning no less than 85 laps on the hilly track in Alabama, with his best lap stopping the clock at 1'24"921, taking advantage of almost all the solutions brought by the English-Japanese manufacturer: "We did this morning only for Dunlop - the Spaniard commented - testing seven or eight tires. When I test tires, I am very careful. Start two seconds, 1.5 seconds, one second at the end if everything is clear and good push a little bit more, but not at the limit. Enough to give information and I hope to be productive to help them build the next years tires."
Just behind Elias, the three-time champ astride his Yamaha did a time of 1'25"168: "All in all, it was good - Beaubier said at the end of the day - We left the R1 exactly the same as it rolled off the track on Sunday. I ended up going my fastest, I did a 25.1 on the harder option tire, and we weren't even close to that on the older harder option tire here this weekend. We kept it short and they look like they (Dunlop) are going in the right direction."
Garrett Gerloff, Beaubier's teammate on team Monster, was also fast, staying close to Elias. If the Texan was a rookie in 2018 with all the things to learn that go along with the territory, next year, the number 31 rider will be starting with the pace to keep up with the big boys.
South African rider Mathew Scholtz won two races this season and next year he will have his sights set on the title. His black and gold R1 was in the able hands of Joshua Brookes, former star on the American scene, who was enthusiastic about the day. Jake Lewis was also turning laps on his Suzuki M4.
The day ended with a statement from Tony Romo, Dunlop manager for MotoAmerica: "For Superbike we had seven different variations of the tire - he explained - That would be construction or different compounds or a different formulation of the same compound. Just trying to get the drop off that the riders have commented on that happens after about lap five or seven. … we're trying to extend that. And we're trying to make it less severe. We have a couple of formulations of the same compound and then we have a few construction changes as well. We want to come out next season with what we need and avoid a mid-season change."