MotoAmerica fans, did you take advantage of the beIN SPORTS YouTube channel live streaming of the American races this weekend?
If the answer is "yes", you did the right thing: Barber Motorsports Park hosted the final round of a truly thrilling 2018 season and every race entertained fans on the track and at home watching on their computers.
In the Superbike category, Cameron Beaubier had already clinched the title in New Jersey and in Alabama, the "only" contest remaining between the Californian and his direct rival Toni Elias was pride and the total number of season wins.
On Saturday, the Suzuki Yoshimura Spaniard finished on the top step of the podium and the Yamaha champ crashed out, whereas on Sunday the double win arrived for the outgoing number 1 rider who, in a spectacular, thrill-filled race, bested Beaubier and Josh Herrin, both astride R1 machines, in the finale.
Extremely late braking, contact, passing and off-track excursions: the race was characterized by everything needed to provide great entertainment and fun; Gerloff and Petersen crashed out, leaving the thrilling three to hash it out for the win, with the former Moto2 champion coming out on top – the fastest European in the U.S.A.: "Today was fun and you know why?" Elias said to the reporters in the media center. "It was fun because all of us, we didn't think about anything - just go push over the limit. In the end, I won but I also could have lost." With this double win, Toni is at nine season wins - one more than Beaubier – for a total of twenty-five victories in MotoAmerica.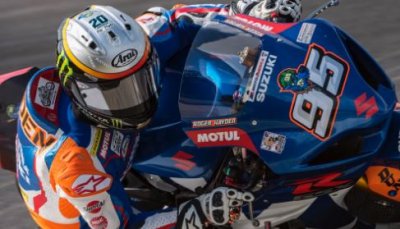 How did Cameron manage to take his third championship crown with fewer wins than Elias? With consistency: besides a few off-track excursions, the rider from Roseville skillfully managed his team Monster R1 through difficult moments, winning when he could and finishing on the podium at every opportunity. With Toni in the gravel on several occasions, the numbers all add up.
Herrin also did well at Barber, so much that he finished third again. Josh is a serious contender for 2019 title and team Attack is enjoying well-deserved results.
The three podium finishers, like everyone else in the paddock, waited for Roger Lee Hayden to give him a celebratory standing ovation: the rider from Kentucky rode the last race of an illustrious career and everyone, without exception, was rooting for him. T-shirts and hats flaunting the number 95 were worn by fans and reporters alike. Despite his less-than-brilliant eighth place finish, Roger Lee was the man of the day and he will certainly always be in the hearts of every motorcycle rider in the U.S.A. and around the world.
Share